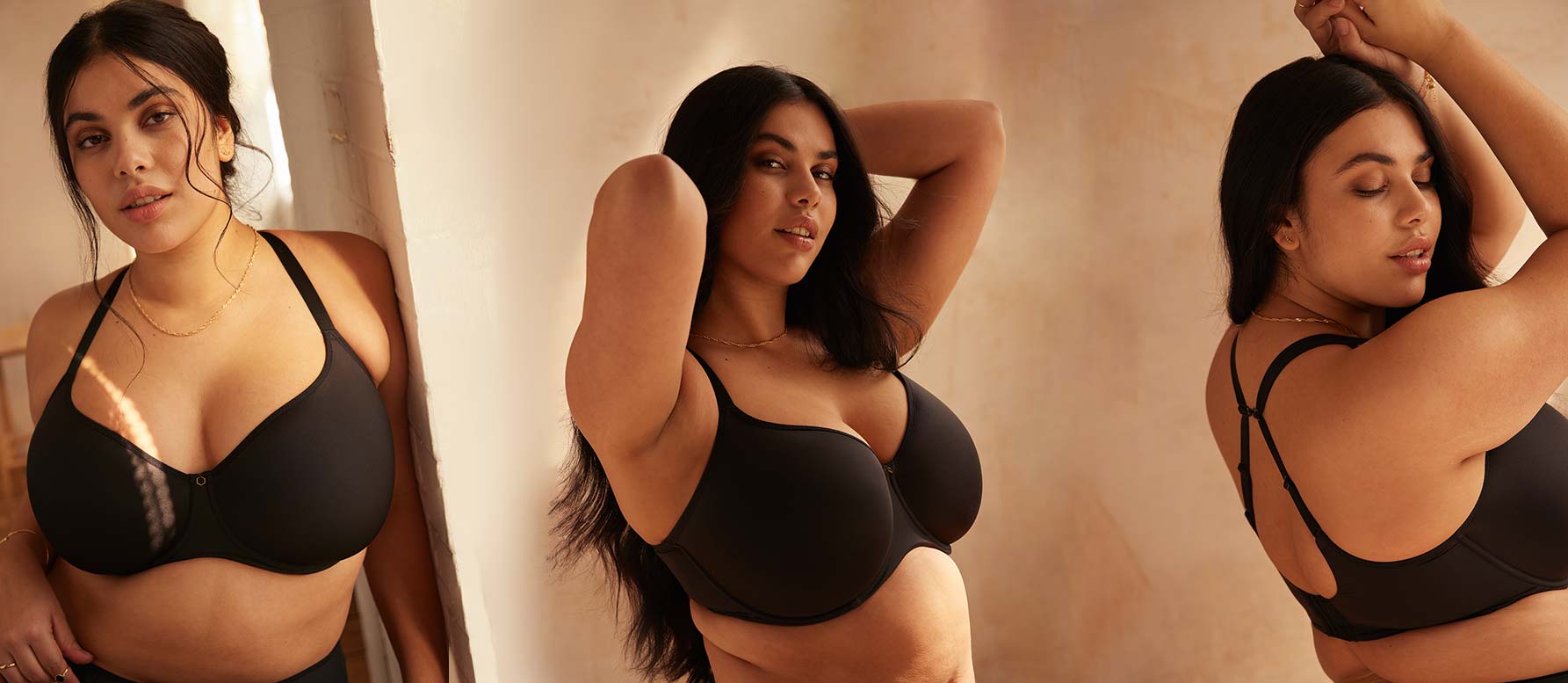 Finding The Perfect Plus Size Lingerie & Underwear For You
Finding plus-size lingerie that's comfortable, sexy, and hugs your curves in all the right places can feel like an uphill battle. We've all walked into a store expecting to find figure-flattering plus size-underwear, only to leave empty-handed and feeling deflated — as if larger, curvier bodies aren't accounted for. But thankfully, times are changing and searching for plus-size lingerie isn't as difficult as it once was. If you need a little support finding the perfect ensemble for you and your gorgeous figure, we're here to help! 
How to find the perfect fitting plus size bra
Know your size with a professional fitting 
Lingerie doesn't come in standard clothing sizes like small, medium, large and extra-large, so do not underestimate the importance of finding the right fit. A poorly fitting bra can cause neck, back and shoulder pain, skin irritation, sagging breasts and awkward bulges that can show through clothing. If it's too daunting of a task to bring out the tape measure, leave the bra fitting to the experts — they'll be able to accurately measure your bust to find your cup and band size, so you can find plus-size underwear that offers a snug, more customised fit.
Your bra should sit comfortably all day long 
If you can slide one finger under the band of your bra, you have the right fit. If there's more of a gap, your bra is likely too large, and if there's no room for fingers, it's far too tight. The middle panel connecting the cups should sit flat against your breastbone, while the band should sit right below your shoulder blades and rest comfortably. If the band is riding up your back, you aren't getting the support you need — especially if you're a fuller cupped woman. While you can try readjusting the straps, you may need to adjust the band size if it's still not sitting comfortably. 
You shouldn't spill from the cups 
If your breasts are spilling over the top or the sides of your bra cup, this is a tell-tale sign the bra you've chosen is too small. If there's a large gap between your breasts and the cup, try a smaller size. 
Strap placement is important 
If your straps are digging into your shoulders, the bra is likely too small. If your straps slip off your shoulders, the bra is likely too big. Your straps keep the bra cups in place, so they must sit snugly on your shoulders. 
Prioritise support 
If you're a fuller cupped woman looking for plus-size lingerie, you may want to steer clear of slinky, wire-free lace styles that offer minimal support. Look for a bra with a structured underwire, soft cups that provide cushioning and a thick band that offers additional lift and support. 
How to find perfectly-fitting underwear 
If your skin bulges, your legs are restricted, your panties bunch at the waist, or you're constantly pulling at the seams, it's safe to say your underwear isn't doing its job. When it comes to finding the perfect sized panties, it should feel like you're wearing nothing at all. Whether you love boyshorts, g-strings or high-waisted knickers, the style you select should be smooth under your clothing, sit comfortably without riding up, and the waistband should lay flat against your skin. 
Ready to splurge? Shop plus-sized underwear online today at Illusion Lingerie 
No matter your shape or size, we believe that every woman deserves to find plus-size lingerie that makes them feel as sexy and confident as they look — and that starts with finding the right fit. Whether you're after maternity, strapless or sultry push-up bras, explore our range today to buy plus-size lingerie online that you'll be reaching for day in, day out.  
If you need help finding your size, you're more than welcome to visit our store for a professional bra fitting. Our staff have completed industry-recognised training to ensure you'll find a style that feels like it was custom-made for your silhouette. Looking for more top drawer must-haves? Explore our selection of shapewear, sleepwear and loungewear today. 
FAQs
What should you look for when buying lingerie and underwear?
First things first — when buying plus-size lingerie online, it's essential to know your cup size and band size. Once you've established this, look for bras made with breathable, moisture-wicking fabrics and styles that include a thick band, sturdy underwire and adjustable straps. In the underwear department, select a cut and shape that's snug, flattering and sits smoothly against the skin. 
What kind of lingerie matches my body type?
Women come in all shapes and sizes, and no two bodies are the same. Whether you have an hourglass, round or pear-shaped figure, look for
plus-sized lingerie
that hugs your curves in all the right places while sitting comfortably.
About The Author
TRACEY
Lingerie Specialist
Famously known throughout Moonee Ponds and Greater Melbourne as the "Bra Fairy", Tracey has been helping women feel comfortable and confident through stress-free bra fittings for over 38 years.
Learn More
The "Feel Like A Queen Routine"
The Feels Like A Queen Lingerie Routine Our Top Picks to feel like a queen this Queens Birthday This Queen's birthday and long weekend (score!) feel like the queen of your castle with our top sugg...
Read more
Transgender Bra Fittings In Melbourne
Illusions Lingerie Is Where To Get A Transgender Bra Fitting In Melbourne The journey of a transgender person is not easy. It's not just about coming out to the world and living their life as who ...
Read more