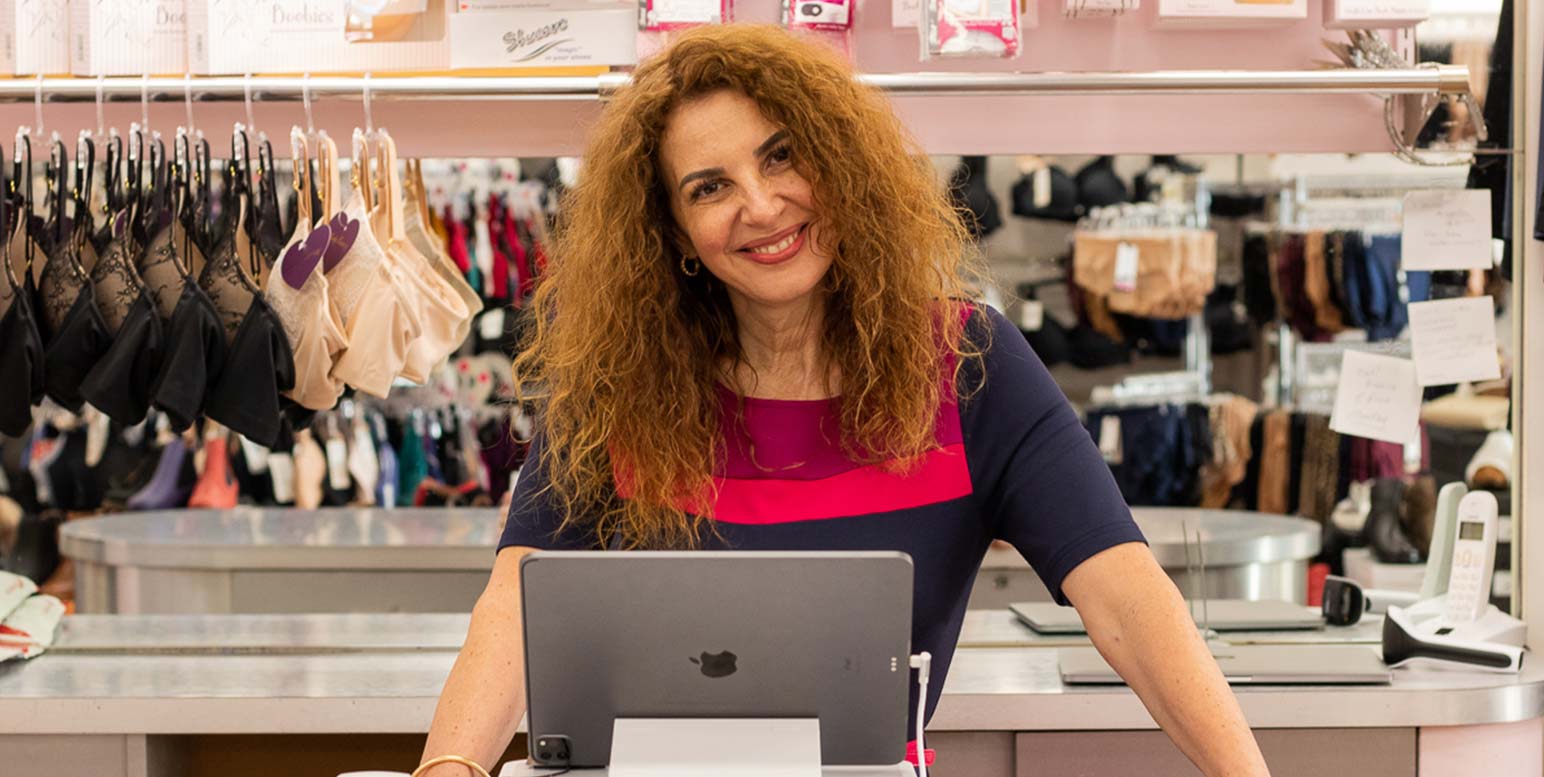 Meet Tracey - Bra Fitting Specialist
Today we're going to find out a bit more about professional bra fitter, Tracey. We've prepared a few questions to discover a bit more about Tracey and her life at Illusions Lingerie.
When did you start working at Illusions Lingerie?
I started many years ago in June of 1984 when I was a mere 16 years old. Since then, almost 40 years later, I have received plenty of training and practical experience fitting women of every age, every shape and every size. Today I am the manager of the store working 6 days a week helping women (and men!) find their perfect fitting lingerie.
What is it about your job that you love the most?
I love, love, LOVE all the people I have met over the years! I have met so many beautiful people who have made me laugh and cry, I've watched customers who have come in for a fitting, gotten married, had babies who are now adults and to be on the journey with them is one of the most spectacular things I could think of. On top of that I get great joy from being able to make people feel comfortable in their own skin simply by providing them with a correctly fitting bra.
What is your favourite type of fitting?
My favourite type of fitting is when I can provide someone with a transformation that is so visible from when they first walk in to when they leave the store. A customer will come in from the street who have never had a professional bra fitting before, they're unmotivated, lacking confidence and simply don't feel good about their body then within minutes of getting into the fitting room they're standing taller, smiling in the mirror and have an overall refreshed outlook on life. And all because they're finally wearing the right size bra!
Do you have a favourite bra?
Yes, my favourite bra for a D cup and up is the Fantasie Ana. It's a pretty, everyday t-shirt bra with an embossed print on the cup and with lace in all the right places. The size range is great as it goes from a D to a GG, has a lovely rounded profile and the straps sit nicely on the shoulder.
It also has a beautiful matching brief at a reasonable price making it a great basic lingerie set.
What advice do you have for people who haven't had a bra fitting before?
Just do it! Your posture will improve, your clothes will look better, your neck and shoulders will thank you for it and the whole fitting experience is a lot more comfortable and enjoyable than you may think. We do everything we can to make sure each and every one of our customers is as comfortable as can be so theres no reason to be nervous! Enjoy it :)
What do you enjoy doing outside of work?
Outside of work I love to go out whether that is through catching up with friends, seeing a show with my husband, or exploring all of what Melbourne has to offer! I also love the odd dress up party or two!
About The Author
TRACEY
Lingerie Specialist
Famously known throughout Moonee Ponds and Greater Melbourne as the "Bra Fairy", Tracey has been helping women feel comfortable and confident through stress-free bra fittings for over 38 years.
Learn More