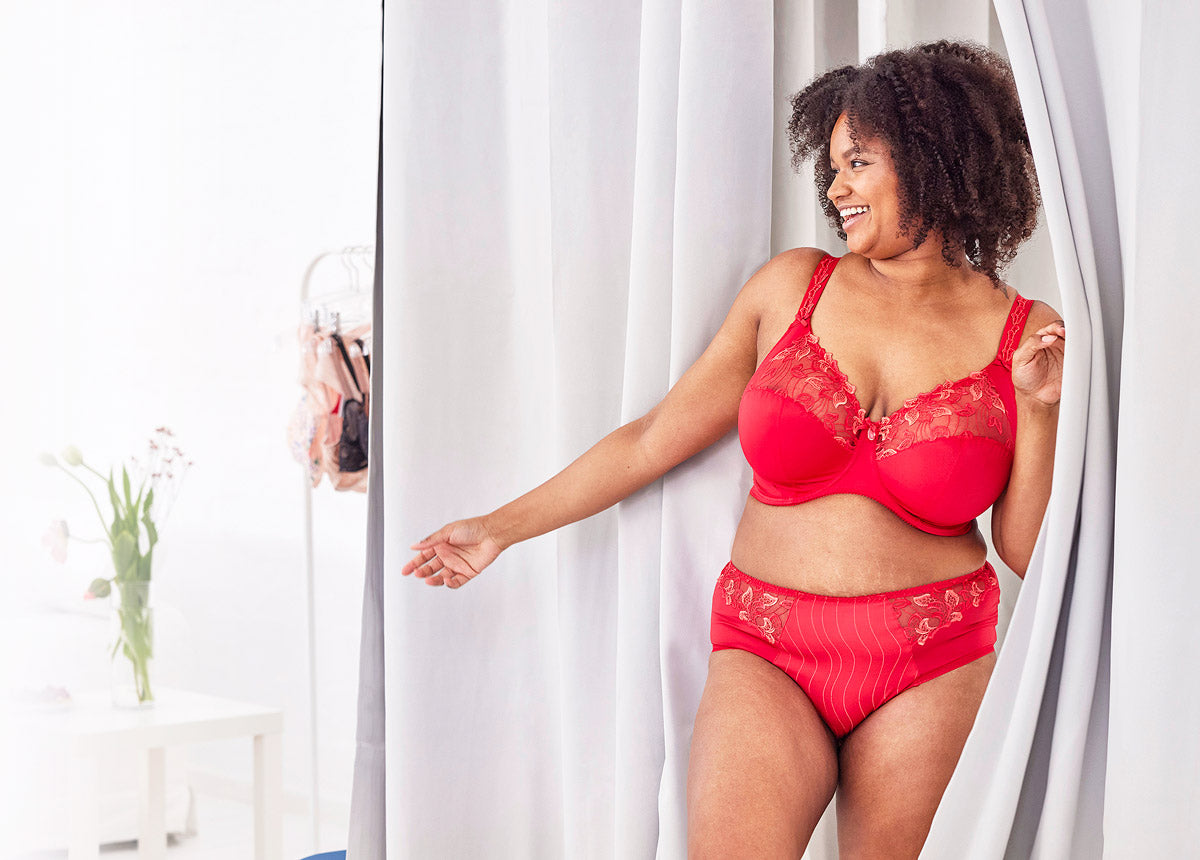 Professional Bra Fitting: All Your Questions Answered
Let's talk bras. 
You know how important they are for your confidence, comfort and health. They can prevent your breasts from premature sagging and can even help you fix your posture. Now, this is only possible if you are wearing a bra that is of the right size.
According to a research study, almost 80% of women end up wearing bras that are the wrong size for them. There are two big reasons for this:
There is no standard "sizes" with bras. Different bra styles tend to have different sizes. Even changing the colour of the bra can result in a change in its measurements.





Getting the perfect fit without the help of a professional is diabolically hard. No, really! There are numerous body contour parameters that go into a professional bra fitting. Without a professional's guidance, there's no way for you to know which bra actually fits you the right way.



Many women shy away from getting professional bra fitting or don't feel it's necessary. Here, we'll clear all your doubts about professional bra fittings and what they entail.
Where do I go to get a bra fitting?

So, you've decided that you want to get a professional bra fitting. Now, you're scouting for professional and reliable lingerie stores that can provide you with the best fitting services. Your first thought might be to go to one of the "big" stores, in the hopes that big will mean better. The bra fitting professionals here might even help you out with the measurement and choosing a bra. However, the problem with these stores is that their aim is always to sell you bras, whether or not it fits you correctly.

If you are going for a professional bra fitting for the first time, it's best to get it done at a local boutique like Illusions Lingerie. Our professionals specialise in lingerie fittings for all body shapes and sizes, and they take the time to ensure that you get the best bra fitting. We also offer inclusive fitting services, which is something you'll not find in retail lingerie stores.
How often should I get a bra fitting?

Once you've found the perfect bra size through a professional bra fitting, it's like a big load off your shoulders (literally and figuratively). But that's not the end of it. Your body and breast size change throughout your life because of many reasons like diet, weight change, pregnancy, medication, illnesses or menopause. This means that the perfect bra you found a year back might not be the best fit for you now. It is a good idea to have professional bra fitting done every six months or annually.

Look out for these signs to determine if you should go for a professional bra fitting earlier:

Your shoulders hurt constantly.

You want to take it off as quickly as possible.

The underwires hurt your rib cage.

The front side of the bra rides up away from the body.

Your bra straps keep falling from the shoulders.



What should I wear to a bra fitting?

Going for a professional bra fitting for the first time can be intimidating. We get it. At Illusions Lingerie, you're in the best hands, so there's no need to worry. The process is fairly quick and easy and hardly takes a few minutes. When you arrive at the store, you will be taken to a private dressing room for the bra measurement. The professional will ask you to remove your shirt, but you can keep your bra on. So it is best to wear any t-shirt or shirt that you're comfortable with. Just make sure that the bra you wear to the fitting does not have any padding, as it can interfere with the measurements.

How will the bra fitter measure my bra size?

Here at Illusions Lingerie, we offer bra fitting services for all kinds of bras, from everyday, sports and plus-size bras to mastectomy and maternity bras. We always ensure that the bra fitting is never rushed. The process of bra fitting takes roughly around 10 to 30 minutes. It starts with a comprehensive fitting and sizing assessment of your unique body shape to understand which bras will suit you best. 
Our aim with the fitting service is to make you feel at ease and provide you with a bra that feels like it was custom-made for you. We'll then recommend you the right size to wear. Ultimately, it will be you who's going to wear the bra, so your comfort is paramount. If you still have concerns about the bra size, we'll try to find the right balance between comfort and fit for you.

What type of bra is right for me?

This question is subjective in nature, so there is no standard answer to this. The only way to know which bra works for you is by trying out the different bras after a professional bra fitting. Sometimes, you'll immediately get the idea that a particular bra is uncomfortable. If it's digging into your shoulders and causing bruises, it is not the right fit for you. The right bra will fit snugly and low in the band, with the middle part of the bra laying flat against the skin. The breasts would not spill out of the cups, and the underwires should be covering the sides completely.

Why is it important to have a bra that fits?

By now, you must already have a fair idea about the importance of finding the right bra size. For those who are still on the fence about professional bra fittings, here are some reasons why finding the right bra size is so important:

The right bra smoothens and shapes the breasts, enhancing the fit of your clothing.

A bra that fits will support your breasts and improve your posture. It might also help ease the back pain and headaches you encounter frequently.

It lifts and supports your breasts, making it easier for you to remain active.

It will feel like a second skin, so you wouldn't feel like taking it off as soon as you get home.



Every woman deserves a bra that not only feels comfortable but also looks great. We, at Illusions Lingerie, are committed to finding the perfect bra for every woman. We offer a wide range of bra fittings, including:

Plus Size Fitting 

Maternity Fitting 

Mastectomy Fitting 

Post-Surgery Fitting 

First Bra Fitting 
If you want to get a professional in-store bra fitting done by one of our experts, you can walk into our store at 22 Puckle Street, Moonee Ponds. No booking is required. If you have any questions, you can call us at 03 9326 1543, and we'll be happy to answer them for you.
About The Author
TRACEY
Lingerie Specialist
Famously known throughout Moonee Ponds and Greater Melbourne as the "Bra Fairy", Tracey has been helping women feel comfortable and confident through stress-free bra fittings for over 38 years.
Learn More