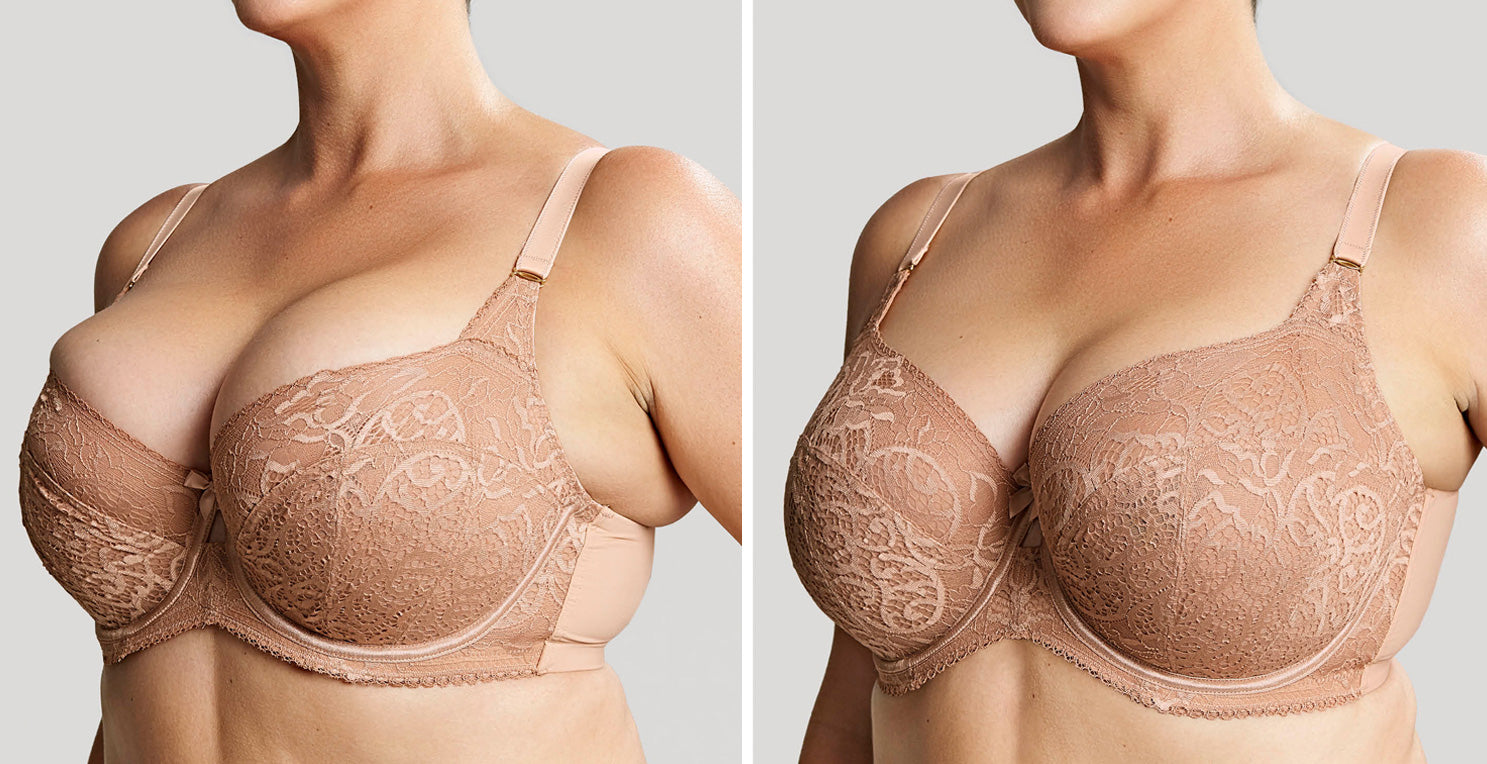 5 Signs That You Are Wearing the Wrong Bra Size
5 Signs That You Are Wearing the Wrong Bra Size 
For many women, finding the right bra size is a difficult task. In fact, 80% of women wear the wrong size bra! The female body changes a lot from puberty to adulthood, making it necessary to change the size that you wear from time to time. The benefits of a well fitting bra include: better posture, less back pain and shoulder tension, breast support for larger sizes and shape retention for smaller sizes. Knowing whether or not your lingerie fits correctly is key to maintaining a healthy wellbeing.
Here are signs that it's time to purchase a new bra size.
1. Bulging Breasts 
If your breasts bulge out of the cups, then you will need a larger cup size up. It doesn't matter whether your breasts are spilling over the top or out of the sides. Your current bra cups are simply too small to hold (and support!) your breasts.
2. Disappearing Breasts 
If your breasts disappear into cups that wrinkle and fold, then you need to go down at least one cup size. This will often occur if you have been dieting or experienced some rapid weight loss. Sometimes it may be as simple as needing a new bra as the one you have may have stretched over time causing the elasticity to wear thin. The bra cups should fit snugly around your breasts.
3. Escaping Breasts 
If your breasts are constantly slipping out beneath your bra each time that you raise your arms, then it could be time to go up a cup size or two. Another possible reason for this problem is that you have the wrong band size and need to consider choosing a smaller one.
4. Breasts Won't Stay in the Center 
If you find that your breasts tend to slip over closer to the sides of your body, then you might want to check that the cup fits properly. If it is too small, your breasts can slide over toward your arms. Another option is to purchase seamed bras. The seams help to provide support for your breasts, securing them properly in place. 
5. Band Size 
When the band of the bra is too large, it can lead to problems with the straps. The bra straps will have to work harder to hold your breasts up. Likewise, when the band is too large, the bra has a tendency to slip around on your body, generally moving upward.
Ensure you're wearing the correct bra size with Illusions Lingerie
At Illusions Lingerie we provide free bra fitting services for everyone of every age and size. Whether it's your first bra fitting, have struggled to find a plus size bra, are going through a pregnancy, having a mastectomy or are looking for an LGBTQ+ fitting, we have you covered.
About The Author
TRACEY
Lingerie Specialist
Famously known throughout Moonee Ponds and Greater Melbourne as the "Bra Fairy", Tracey has been helping women feel comfortable and confident through stress-free bra fittings for over 38 years.
Learn More