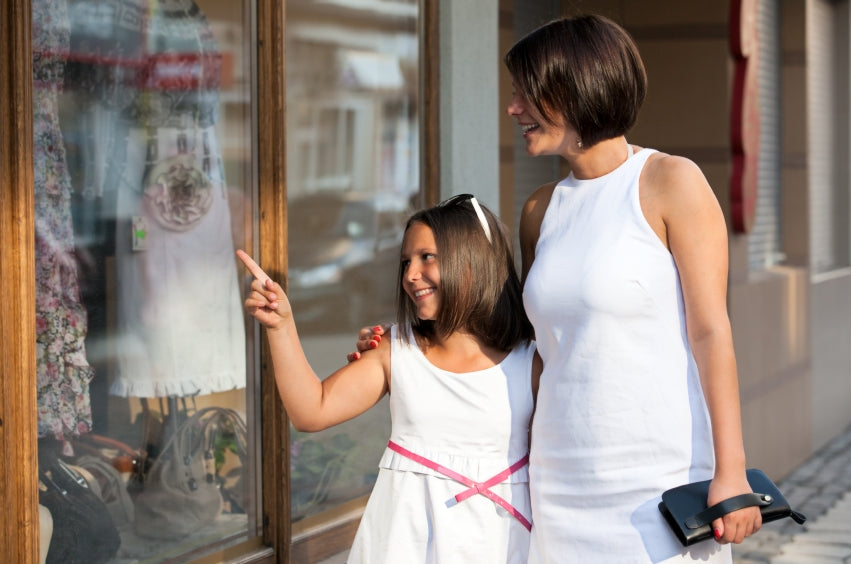 A first bra fitting can be a scary time for anyone! The thought of going into a store dedicated to your bust, confronted with hundreds of colours, styles, fabrics and sizes, it can all be quite daunting and it's an experience you don't forget. Your tween may have thoughts running through their head; What size bra is right for me? Is my bust too big? Too small? Do I even need a bra? Help!
Thankfully we are going to run through some common questions, the process of fitting, and along with the professional fitters at Illusions Lingerie we will give you an insight when it comes to where to get fitted for a first bra and what happens during a fitting for tweens.
What is a Tween?
A tween is a person who is between the ages of 9 and 12 - too old to be a child and too young to be a teenager. They are of an age that is in between.
This age group often has a difficult time transitioning from childhood to adulthood whether due to emotional, or physical changes (oh, isn't puberty fun). This delicate time is critical to building self-confidence and identity.
It's very common for women of this age range to begin developing a bust and to require a bra whether to support or to hold down the chest. Making sure your tween is supported emotionally and physically can not only be a great bonding experience for parents and daughters but also allows your child to feel comfortable discussing their changing body with you.
First Bra Fitting For Tweens - Before The Fitting
When it's time to find a bra for tweens, there are a few key factors that are important in the lead up to the fitting - it's not just about the bra!
At Illusions, we suggest bringing your daughter in with you when you go to have your own fitting. This allows them to become familiar with the fitting process and getting comfortable with lingerie stores without diving straight into the deep end of their own fitting. Having them join you while you shop for bras will also allow them to ask any questions they may have to you or to the experienced staff.
Young women are also very impressionable so you should avoid criticising your body but to rather embrace your own shape as self criticism can pass down to your child to have a negative view of their own figure.
Bras For Tweens - What's Important?
When it comes to the bras, it's actually quite simple. Having a few go-to everyday bras and some reliable sports bras is all that is needed. At their first fitting, one or two basic bras and a sports bra is enough to just get them familiar with the experience and not become overwhelmed.
Listening to your daughters opinion on what they are trying on is also crucial to finding the right bra, after all they won't wear a bra that they don't like.
Finally, it's important to go to an experienced fitter. A bra fitting for teenagers is different to a standard fitting as their bodies are continuing to change and grow so fitting too tight or too loose wont provide a comfortable fit.

What Happens During A First Bra Fitting?
When getting a fitting at Illusions Lingerie you can leave your worries at the door, our fitters make sure you and your daughter are in a comfortable, safe, and friendly atmosphere. You'll be welcomed by our staff who will ask you what you're looking for. The fitter will find your size and offer you a selection of bras that will fit you and match what you're after. You can trust that all of our fitters won't be pushy and only want the best for you, if it doesn't feel right, let us know and we can help find something more suitable.
Generally Talya, our youngest fitter (don't worry, she has over 15 years of experience!) will fit teens for their first bra. Talya knows what it takes to provide a 1-on-1 fitting that is comfortable and makes your teen feel good in their new bras! You can trust she will be kind, caring, and happy to accomodate to each individuals needs or requests to find the best bra for them.
Tween Bra Fittings - Melbourne Based
Let Illusions Lingerie take the stress out of finding a first bra thanks to friendly and experienced bra fitters. Visit our Moonee Ponds lingerie store for your free personal bra fitting - no appointment necessary! 
About The Author
TRACEY
Lingerie Specialist
Famously known throughout Moonee Ponds and Greater Melbourne as the "Bra Fairy", Tracey has been helping women feel comfortable and confident through stress-free bra fittings for over 38 years.
Learn More