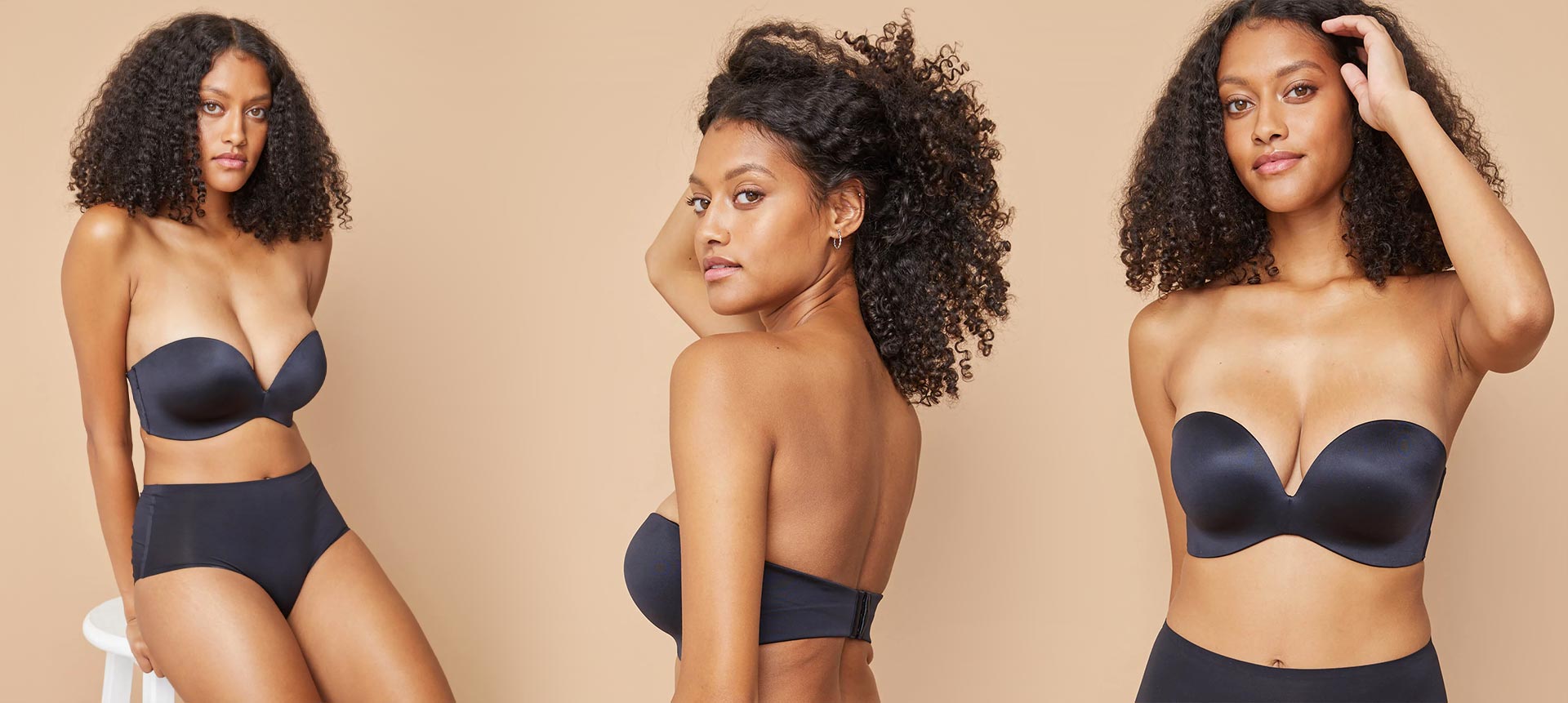 The Strapless Bra Fitting Guide
A strapless bra is essential for achieving the perfect look when you don those off-the-shoulder tops and dresses. However, most women out there tend to have a love/hate relationship with this particular piece of lingerie. Why? Because strapless bras have a reputation for being uncomfortable and lacking in support. We've busted myths about underwire bras being bad for your health, and now we're going to bust myths about strapless bras with our strapless bra fitting guide. 
In today's blog, we'll address all your fitting and shopping concerns regarding strapless bras and provide you with practical tips to help you find the best strapless bra. Let's begin our strapless bra fitting guide.
The Strapless Bra Fitting Guide

1. How to choose the right strapless bra?
2. Do strapless bras have support?
3. How to stop a strapless bra from slipping?
4. How should a strapless bra fit?
5. How to wash a strapless bra?
How To Choose The Right Strapless Bra?
When it comes to choosing the right strapless bra, it all comes down to your body type, the level of support you need and the garment you're wearing. If this is your first time buying a strapless bra, we strongly recommend speaking to a professional bra fitter who can assess your shape and suggest some styles and sizes that will best suit your needs. However, before you embark on your shopping journey, it's important to know the different types of strapless bras so you can narrow your search: 
Bandeau strapless bras:

These strapless, stretchy, tube-like garments are designed to encircle the bust, providing minimal support and coverage. Often made of soft, breathable fabric, bandeau bras are ideal for lounging or layering under loose-fitting clothing.
Balconette strapless bras:

Features a wide-set, horizontal neckline, accentuating the décolletage. Ideal for low-cut, off-shoulder, or strapless outfits, they create a subtle cleavage, ensuring confidence and comfort. Illusions Lingerie recommends:

Body Make-up Essentials

 bra. 
Convertible strapless bras: With detachable, adjustable straps, they can be worn in multiple configurations, including strapless, halter, crisscross, or one-shoulder styles. This style provides essential support and comfort for various outfits. Illusions Lingerie recommends: Refined 6-way Low Cut Nude Strapless Convertible Bra

. 
Push-up strapless bras: Features padding or built-in inserts that create a fuller, more defined cleavage. Ideal for strapless or low-cut garments, they ensure both style and support. Illusions Lingerie recommends: Refined Wireless Strapless Bra.
Longline strapless bras: This style extends further down the torso, providing a wider band that helps distribute weight evenly. Ideal for bridal wear, form-fitting garments, or posture improvement
Do Strapless Bras Have Support?
You might've heard many women saying that strapless bras do not provide adequate support, and that's a valid concern. While strapless bras do not have straps like regular bras, bust support is provided by the band around your ribcage. So if you're wearing a cup size that is too small or big for your breasts, chances are that the bra will slip down. It also depends on the quality of item; just like with underwire bras, if the strapless bra is made of stretchy or thin fabric, it will not be able to provide as much support.
To ensure adequate support, strapless bras should fit snug secure around the rib cage. It's also important to look for bras with rigid construction, strong elastic and wide bands. If support is your main concern, you can also look for strapless bras that come with elastic/silicone grippers, which help keep the bra from slipping down. For larger breasts, strapless bras with boning and moulded cups provide additional support. 
How To Stop A Strapless Bra From Slipping?
The wrong strapless bra can be a real pain in the neck, literally! There can be many reasons that can be causing your bra to slip down, such as: 
Bra is too loose:

A good strapless bra should fit snugly without feeling too tight. Getting an

in-store fitting

is the best way to ensure that you get the right size.




Worn-out band: Depending on how you use and care for the strapless bra, the elastic properties of the band can reduce over time, causing slippage.


The band is too narrow: If you have larger breasts and you're wearing strapless bras with narrow bands, chances are that it will slip. It's better to go with wide bands to ensure support.


The bra doesn't have no-slip grips:

Gripping strips made of rubber and silicone can help keep the bra in place.
How Should A Strapless Bra Fit?
You know your strapless bra fits correctly when you're so comfortable wearing it that you forget that it's even there! It won't slip down and will also be flattering on your figure. Here's a mini guide to ensure an amazing fit with your strapless bras:
Band fit:

Make sure your band fits snugly across your back, providing most of the support. It should be tight enough to stay put without slipping, but not so tight that it's uncomfortable or digs in. You should be able to slide two fingers underneath with ease.
Cup shape/size:

The cup should fit over your breasts without any form of overspill or gapping. Make sure the fabric on your bra is without any wrinkles or bunching - it should look smooth and seamless when worn under clothes.




Underwire placement:

Underwired strapless bras should rest comfortably in the part where your breasts meet the ribcage. The underwire should not dig into your ribcage or breast tissue.




Centre gore placement:

The fabric connecting the cups is called the centre gore, and it should lie flat between the breasts, ensuring proper separation and support.




Side boning:

If you're wearing a strapless bra that has side boning, it should make you feel secure and comfortable without digging into your skin.




Gripping strips:

Some strapless bras have silicone/rubber strips along the inner edges of the band. These strips are designed to grip your skin gently, so the bra stays put without causing any irritation or discomfort.
But don't worry, a professional bra fitter can help make sure all of the above things are sitting and fitting where they should before you buy a strapless bra.

How To Wash A Strapless Bra?


Taking good care of your lingerie will help keep it looking like new for longer. Bras should ideally be washed after one or two wears, either through hand-washing or machine washing. However, hand washing is always the better of the two. If you do want to machine wash, it's a good idea to use a mesh lingerie wash bag for the purpose. Also, ensure that it's a cold wash and skip the tumble dry. It's also best not to use a fabric softener, as they tend to damage the elastic. After it's done, let it air dry.
How you store your lingerie will also determine its lifespan. Make sure you stack them one behind the other to keep the moulded cups in shape. The cups of the moulded strapless bras should never be folded in the opposite direction, as this tends to ruin its structure. To store them neatly, consider getting some drawer dividers.
Strapless Bra Fitting Guide
So, you know about the different styles and how they should fit, but what about shopping for strapless bras in Australia? Our number one tip in our strapless bra fitting guide is to choose a reputable retailer like Illusions Lingerie. A reputable retailer will stock high-quality bras made from quality materials. This means that you are more likely to get a bra that fits well, is comfortable and provides adequate support
We also recommend trying out different types of strapless bras to find out which one works best for your body and your outfit. And at the end of the day, choose fit over everything else. Wearing the right size strapless bra is key for getting the much-needed support  – 80% of which comes from the band around your torso.
~
Looking for the best strapless bras that won't let you down? After reading our strapless bra fitting guide, we highly recommend visiting in store. At Illusions Lingerie, our friendly and fabulous fit experts will help you find the perfect strapless bra so you can feel confident, comfortable and stylish. Visit our Moonee Ponds store for bra fitting service or browse our range of strapless bras online today!
About The Author
TRACEY
Lingerie Specialist
Famously known throughout Moonee Ponds and Greater Melbourne as the "Bra Fairy", Tracey has been helping women feel comfortable and confident through stress-free bra fittings for over 38 years.
Learn More