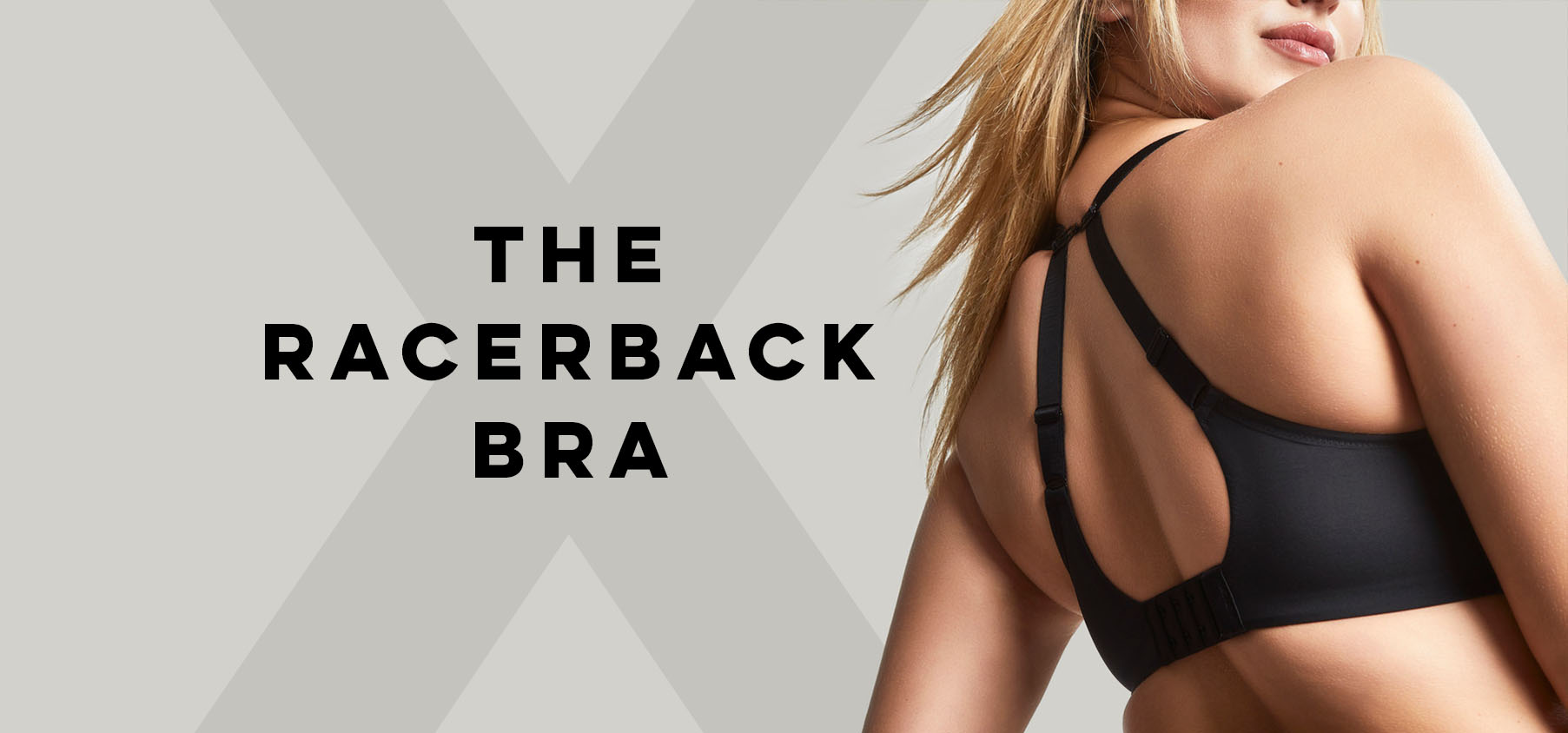 The Racerback Bra Guide - Your Questions Answered
The perfect tool for hiding bra straps and providing a firmer fit, welcome the racerback bra. With a wider range of motion available, the racerback bra might just be the perfect solution for you! In this guide, we'll explore the unique features, benefits, and tips for making the most of racerback bras.
Understanding Racerback Bras
What is a racerback bra?
A racerback bra is a type of bra designed with shoulder straps that converge at the centre of the back, forming a "V" "Y" or "X" shape. This design enhances support, prevents strap slippage, and offers a sporty and stylish look.
Why is it called a racerback bra?
The term "racerback" stems from the design's resemblance to the back of an athlete's singlet, commonly worn by racers.
Is it racerback or razorback?
The correct term is "racerback". While the term "razorback" is commonly used and accepted, the meaning of a "razorback" refers to a feral pig.
The Benefits of Racerback Bras
What's the benefit of a racerback bra compared to a regular bra?
Racerback bras excel in various scenarios. They are perfect for wearing under tank tops and sleeveless clothing where straps would be showing, provide optimal support for those with narrow shoulders prone to strap slippage, offer reduced breast bounce and the freedom of movement necessary for workouts or active lifestyles.
Converting Your Bra into a Racerback
To convert a regular bra into a racerback, you can use a Bra Converter Clip. This thin clip discreetly transforms your bra, keeping the straps hidden and in place while instantly creating a racerback and adding a gentle lift. Featuring 3 clips - Black, White, and Beige - this is a must have for every woman's lingerie kit.
Tips for Wearing and Maximising Comfort
Why do racerbacks hurt my back?
Racerback bras may cause discomfort if they are too tight or if the straps exert excessive pressure on the shoulder blades. It's crucial to wear the right size and ensure a comfortable fit to avoid unnecessary strain - we recommend having a professional bra fitting when purchasing any bra as all brands, sizes, and even colours will fit differently.
Are racerback bras better for posture?
Racerback bras can contribute to improved posture by pulling the shoulders back and distributing the weight of the breasts more evenly. However, it's important to always wear a properly fitting bra that provides the necessary support for your body to maintain good posture.
About The Author
TRACEY
Lingerie Specialist
Famously known throughout Moonee Ponds and Greater Melbourne as the "Bra Fairy", Tracey has been helping women feel comfortable and confident through stress-free bra fittings for over 38 years.
Learn More