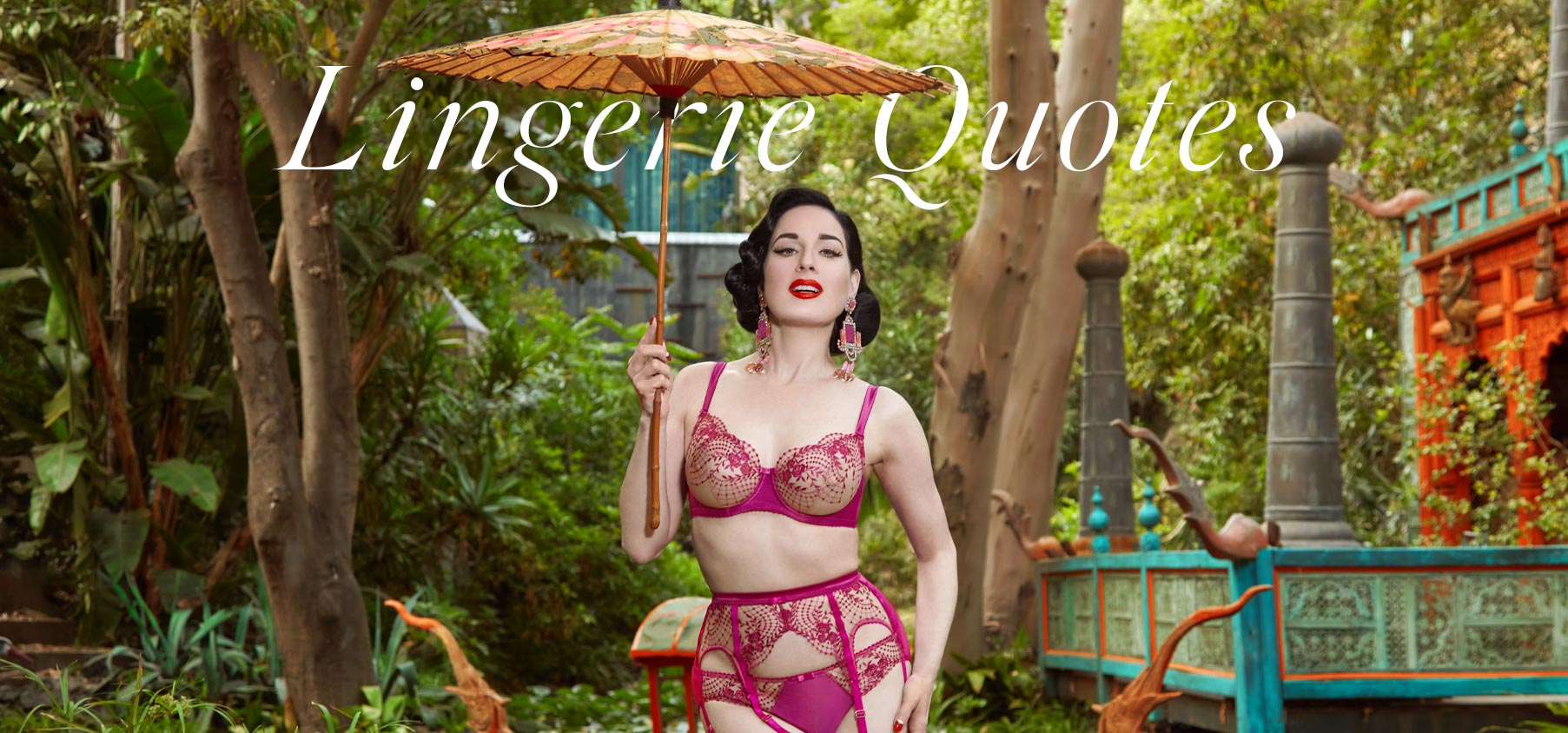 15 Celebrity Bra & Lingerie Quotes
Hey there, lingerie aficionados! Welcome to the vibrant world of Illusions Lingerie, where supportive, well-fitting bras and gorgeous styles collide in a delightful dance of allure. We're Melbourne's go-to hotspot for the best lingerie brands and expertise, igniting the flames of confidence in every lady whether by a professional bra fitting, shapewear for a special occasion, or a new thong to spice up date night.
Today, we're all about the fun and flair that lingerie brings to the table. We've previously shared our favourite bra puns, now get ready to dive into a treasure trove of 15 inspiring lingerie quotes, served with a splash of humour and a sprinkle of sass, straight from fashion icons like Dita Von Teese, Elle Macpherson, and Heidi Klum. These quotes are the champagne bubbles to our celebration, embodying the vivacity and timeless charm that our carefully curated lingerie collections represents. Let's uncork the bubbly and pop into this exciting journey of lingerie love!
Celebrity Bra & Lingerie Quotes
"If your wearing lingerie that makes you feel glamorous, you're halfway thereto turning heads." - Elle Macpherson



"Lingerie is my next love after clothing; I think it is what is worn underneath that really inspires a woman to feel beautiful in her clothes - that inner, secret glamour." - Alice Temperley



"One of my ex-husbands thought I had a breast job. They looked bigger. I just got the proper lingerie." - Cybill Shepherd



"I love lingerie and feminine things. It makes me feel nice to look good even when I'm the only person who's going to see it." - Elle Macpherson



"How to care for intimate apparel? Treat your bras like you'd want a partner to handle your breasts: with kindness and a gentle touch." - Elisabetheth Dale





"Lingerie is not about seducing men; it's about embracing womanhood." - Dita Von Teese



"If love is blind, why is lingerie so popular?" - Dorothy Parker



"The right bra can change your life. It's all about support and comfort." - Elle Macpherson



"You should spend your money on some nice lingerie. Big wool cotton pants, that just doesn't work. You have to feel sexy." - Heidi Klum



"Every four weeks I go up a bra size... it's worth being pregnant just for the breasts." - Natasha Hamilton





"The right bra can make your clothes fit better and make you feel more confident." - Heidi Klum



"I think lingerie plays a big part in how you carry yourself." - Nicole Richie



"If God wanted us to be naked, why did he invent sexy lingerie?" - Shannen Doherty



"I'm not perfect. But clothes help. A good bra with some underwire definitely helps a lot!" - Katherine Heigl



"A friend is like a good bra: hard to find, comfortable, supportive, always lifts you up, makes you look better, never lets you down or leaves you hanging, and always close to your heart." - Jasinda Wilder
And there you have it, lingerie lovers! The world of lingerie is a wild, wonderful, and an oh-so-playful one. At Illusions, we're all about bringing that playful spirit to your lingerie game while ensuring a perfect fit. We hope these quotes have tickled your fancy and added a sprinkle of excitement to your day. Ready to strut your stuff in some fabulous lingerie? Swing by our bra shop, where we're always ready to help. Let us make lingerie shopping a stress-free adventure thanks to our bra fittings because, after all, lingerie isn't just clothing - it's about expression and comfort! Stay fabulous, stay playful, and keep rocking that lingerie confidence!
About The Author
TRACEY
Lingerie Specialist
Famously known throughout Moonee Ponds and Greater Melbourne as the "Bra Fairy", Tracey has been helping women feel comfortable and confident through stress-free bra fittings for over 38 years.
Learn More