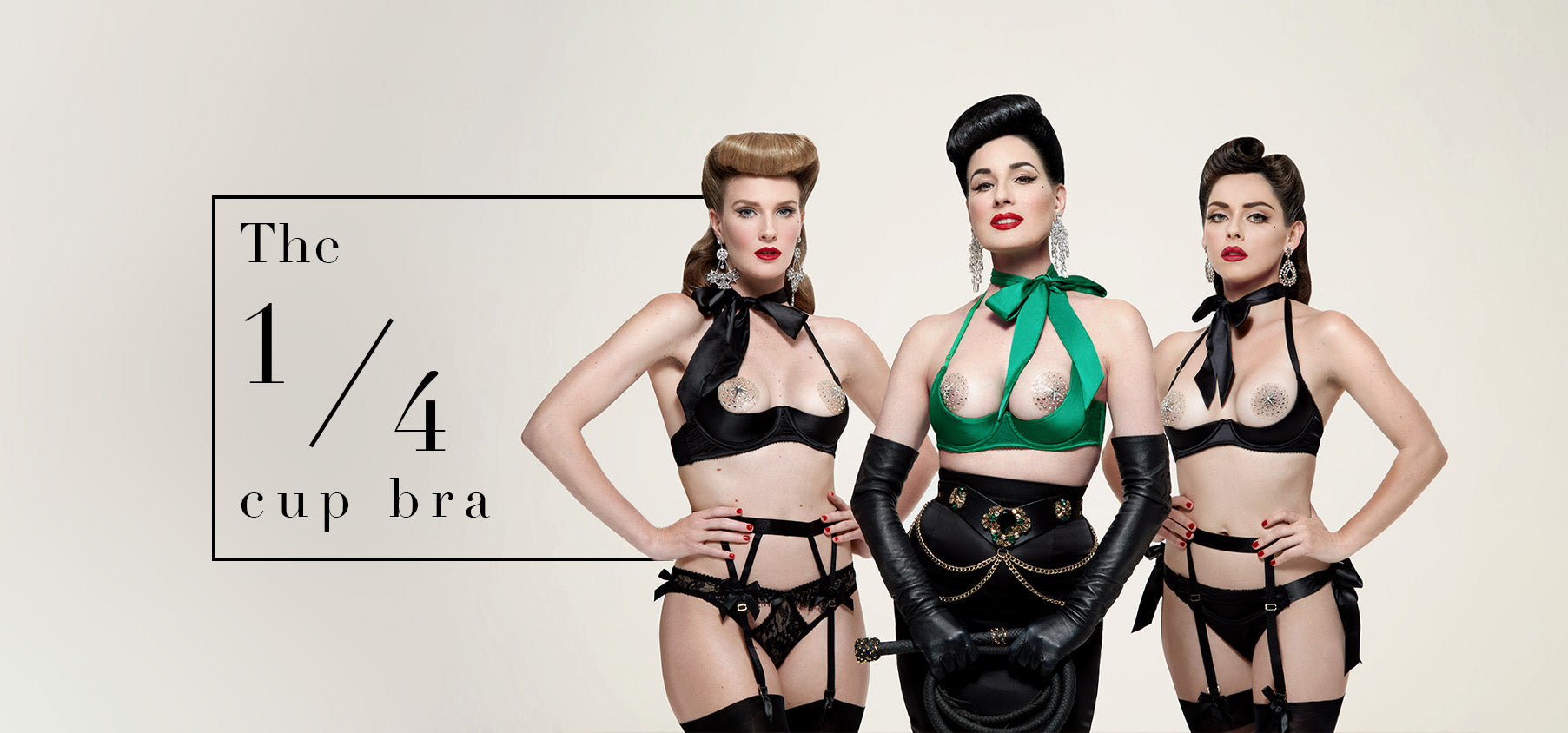 The World of Quarter Cup Bras
Quarter cup bras, oh la la! These pint-sized powerhouses of lingerie are here to dazzle and entice, providing just the right balance between sensuality and support. Lets uncover the tantalising secrets of the quarter cup bra, what it's great for, how it compares, and how to rock it with style. Buckle up, because we're diving deep into the world of quarter cup bras – prepare to embrace your inner lingerie fashionista!
What is a ¼ Cup Bra?
Ladies and gentlemen, drumroll please – presenting the quarter cup bra, a petite masterpiece designed to cover about one-fourth to one-third of your lovely bosom. Yes, you heard that right! Open cup bras or commonly named quarter cup bras are as the name suggests, a quarter of a full cup bra. Revealing your breasts while still support your bust with an underwire. These bras don't leave much to the imagination bar a bit of mystery while giving you just the right amount of lift and support to plump your girls.
What are Quarter Cup Bras Good For?
Wondering why you should invite a quarter cup bra to your lingerie soiree? Here are the top three reasons why:
Enhanced Sensuality: Quarter cup bras add a sprinkle of spice to your wardrobe, boosting your confidence and transforming you into the fierce vixen you are! This sexy lingerie is said to be the ultimate in sexual allure.
Size Inclusivity: Quarter cup bras aren't just for a specific band or cup size. Whether you're an easygoing XS or a curvaceous 2XL, quarter cup bras celebrate all body types, ensuring that everyone can embrace their unique style and feel fabulous. Easy sizing makes it extra easy to find your size and even easier as a gift for your partner.
A Dash of Lift and Support: Don't be fooled by their dainty appearance – quarter cup bras come with underwire support that gives your assets a little boost while maintaining that alluring peek-a-boo effect. A win-win!
Affordable Luxury: You don't need a Hollywood budget to own a piece of the tantalising allure. All pieces in the Dita Von Teese sets are priced under $50, making these quarter cup bras a must-have for anyone who wants to indulge in luxury without breaking the bank.
Difference Between a Quarter Cup Bra and a Full Coverage Bra
Let's talk about the OG, the full coverage bra, and the dazzling newcomer, the quarter cup bra. Think of a full coverage bra as your dependable best friend who's got your back (and front), providing full-on support and coverage. On the other hand, the quarter cup bra is your playful, vivacious sidekick, revealing a little skin and leaving room for some cheeky adventures. Variety is the spice of life, after all!
How to Wear a Quarter Cup Bra
Ladies, it's all about flaunting what you've got and embracing the freedom! Here's a quick guide to wearing your quarter cup bra like a true lingerie superstar:
Size Up Your Sass: A professional fitting is your superhero cape. Get yourself professionally fitted to find the perfect size that'll make you feel like a million bucks!
Strap it Up: Adjust those straps to your liking for the perfect lift and shaping. Remember, your comfort is key!
Mix and Match: Coordinate your quarter cup bra with a matching brief, suspender and adhesive nipple covers that highlight your unique style and curate the ultimate lingerie set!
Confidence is Queen: Lastly, wear it with unapologetic confidence!
Introducing Dita Von Teese's Von Follies Collection
Our recommendations
1. Seduca Set
Hold onto your hats, lingerie enthusiasts! Dita Von Teese's Seduca Quarter Cup Bra is here to sweep you off your feet. It's like a gentle whisper of lace magic, with a low cut and delightful eyelash lace that'll leave your partner grinning like a Cheshire cat. And let's not forget those adorable bow details – it's the icing on the lace cake! Available in Black (because classics never fade) and Cameo Pink (because a little romance never hurt anyone), this bra is your ticket to the world of lingerie enchantment.
Recommended for: The inner romantic rebels and lace lovers, looking for that blend of elegance and playfulness. If you've got a soft spot for lace and a penchant for a touch of cheeky, this bra is your lingerie soulmate.
2. Beau Teese Set
Step right up to the sensational show of the Beau Teese Quarter Cup Bra! It's not just any bra; it's the main event of your lingerie extravaganza. Made from lusciously luxurious stretch satin, this bra wraps you in a satin embrace that's just irresistible. The true quarter cup design means it's not holding back – it's ready to unveil the magic! And oh, that functional ribbon bow at the neck? You'll feel like a present ready to be unwrapped! Choose between the tantalising Emerald (because you're a gem, darling!) and the timeless Black (for that touch of mystery). Let the show begin!
Recommended for: The glam queens and satin seductresses. If you're all about that opulent feel and love a dash of drama in your lingerie, this bra is your backstage pass to the world of sensuous satin and playful allure. Time to sashay in satin!

3. Pair with Nipple Covers
When it comes to embracing the allure of quarter cup bras, you can take your sensuality to the next level with our exquisite range of nipple covers. Our collection includes options for every taste and level of daring. For a touch of bedazzling glamour, our reusable rhinestone nipple covers are the perfect choice. They not only provide nipple coverage but also add a sparkling touch that's sure to captivate. If you're in the mood for something a little more playful, our classic nipple tassels in red and black will bring out your inner burlesque diva, allowing you to tease and tantalise. And for the daring souls who want to leave a lasting impression, our black X / cross nipple cover makes a bold statement that's impossible to ignore. No matter your preference, our nipple cover collection complements our quarter cup bras, enhancing your lingerie ensemble with a touch of mystique and allure.
Quarter cup bras are here to make a statement – a statement of confidence, allure, and a playful spirit. Explore our range of quarter cup bras today, embrace the beauty of your curves, get professionally fitted, and let your lingerie collection reflect your personality. Now, go ahead, rock that quarter cup bra and let your inner lingerie diva shine! Size should never limit your confidence – embrace the fit that makes you feel fabulous and revel in the world of exquisite lingerie!
About The Author
TRACEY
Lingerie Specialist
Famously known throughout Moonee Ponds and Greater Melbourne as the "Bra Fairy", Tracey has been helping women feel comfortable and confident through stress-free bra fittings for over 38 years.
Learn More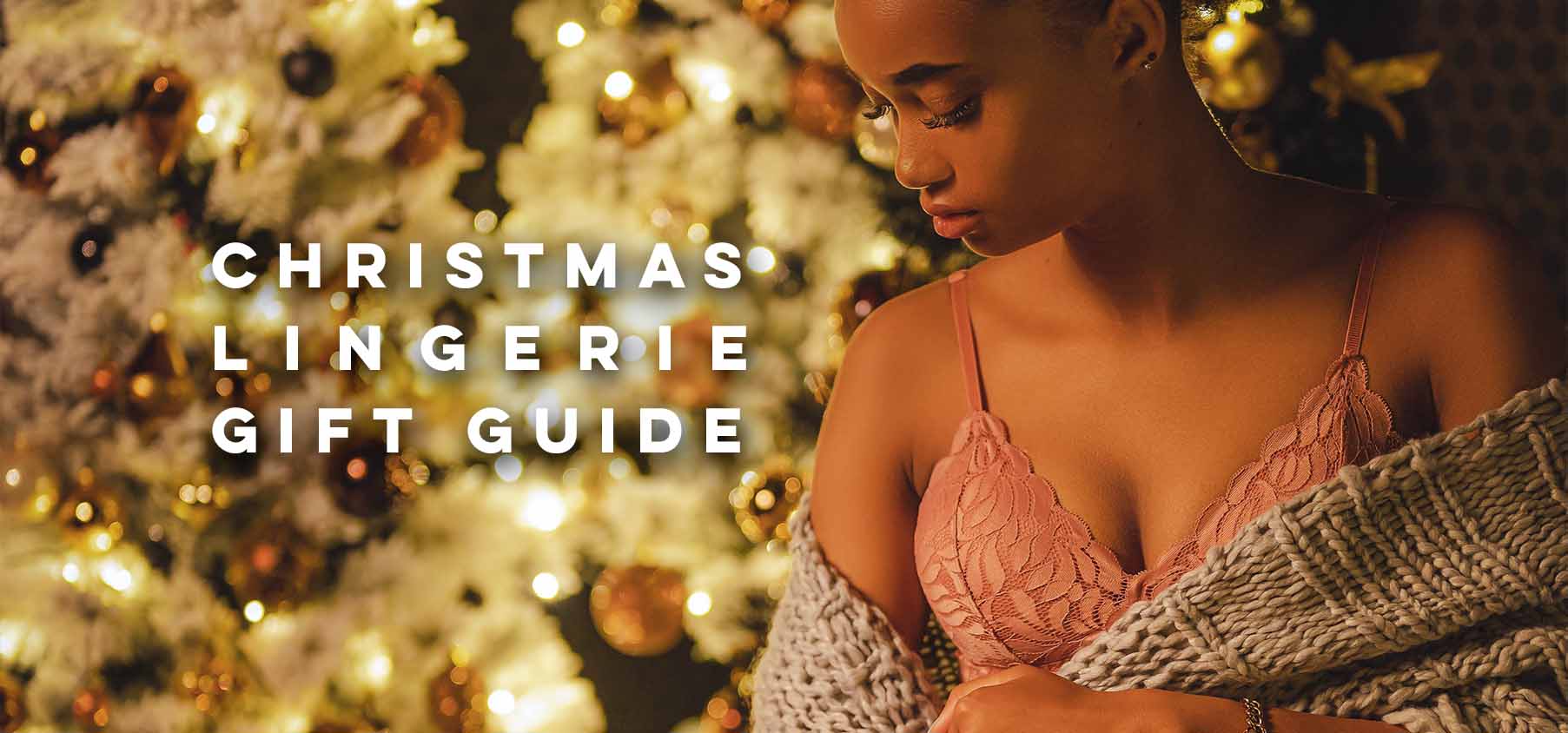 Hey there, fabulous lingerie lovers! We hope this blog post finds you getting in the Christmas spirit, putting up your tree, listening to xmas songs while sipping on hot cocoa, as we dive headfirs...
Read more