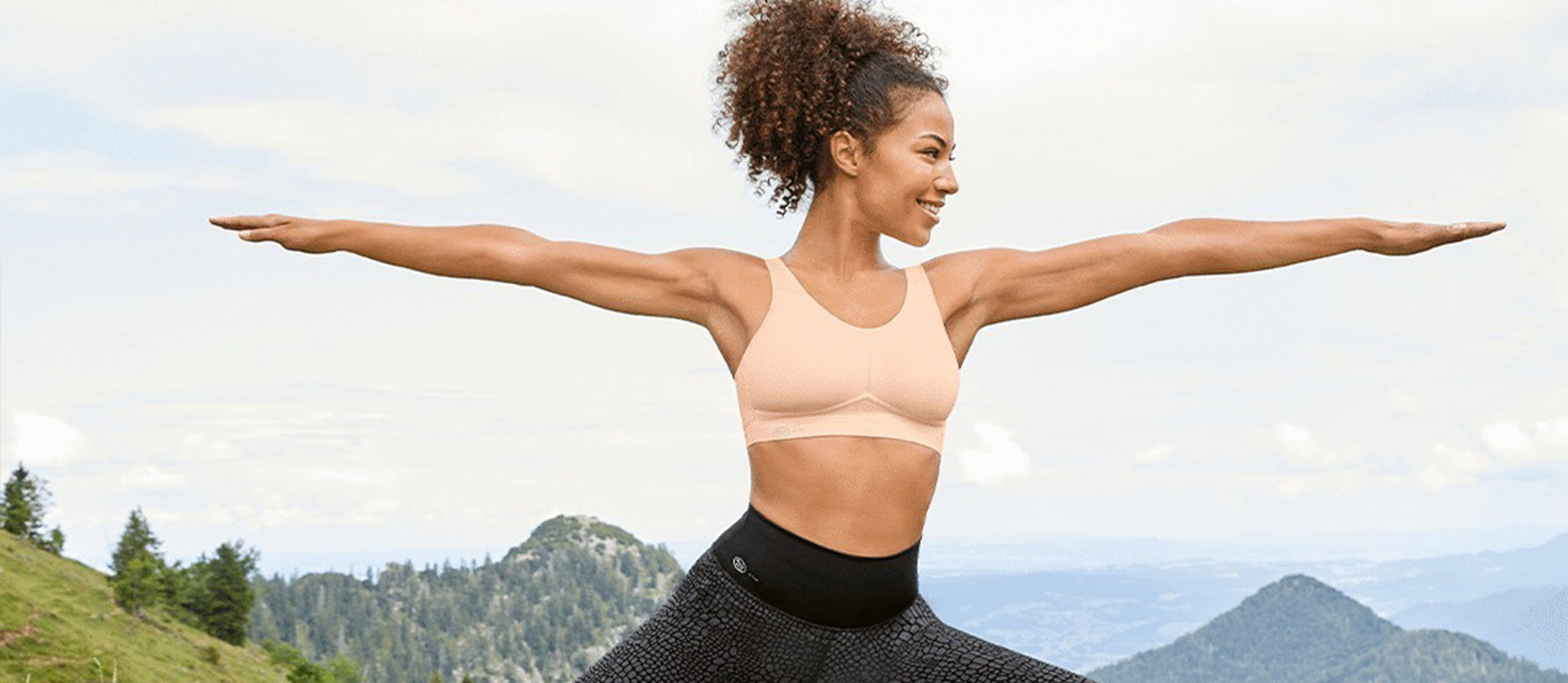 Understanding The Science Behind Sports Bras
Wearing a bra that fits well and provides comfort and support is important, but it's absolutely vital when participating in sport. Whether you're going for a run, doing your morning yoga or going on a hike with the family, you need a good-quality sports bra that will reduce breast movement and help prevent injury. 
You might think that your everyday bra is up to the task, but sports bras do more than hold your breasts in place. They also work to reduce friction and chafing, while providing compression that can help reduce discomfort and support the muscles of the chest wall. This combination makes sports bras the best choice for walking, running, bending and twisting motions, or basically any movements which can all cause your breasts to bounce around. 
Still not convinced? In today's blog we're taking a closer look at the science behind sports bras. So keep reading to find out how sports bras work, why sports bras work and most importantly - why every woman needs one in her lingerie drawer. 
How do sports bras work?
Sports bras work by restraining the breasts, which allows them to move in a way that promotes muscle relaxation. This reduces the chance of injury, decreases friction and creates a smooth and comfortable surface for skin-to-skin contact. When you're active, you need a bra that can absorb shock and dampen vibrations. It also needs to have the right kind of compression to allow blood flow and support your muscles. And a great sports bra is super comfortable, so you can forget you have it on. 
How do I know if a sports bra fits well?
There are many high-quality and well designed sports bras available on the market today (many of which can be found at Illusions Lingerie), but in order to feel the full benefits of a sports bra it needs to be a proper fit. So make sure you keep the following things in mind:
If you try on any bra, whether it's meant to be worn while working out or not, you should make sure that there is no puckering at the bottom of the cups. There should also be no bulging or irritation under your arms. 
The band at the bottom of your bra shouldn't ride up or dig in. It also shouldn't shift around, as this can cause chafing and discomfort. Your bra shouldn't be so tight that it feels uncomfortable.
The shoulder straps shouldn't dig in or slip off your shoulders. They should also not be too loose and should be close enough to the neck to keep the bra in place, but not so tight as to compromise your circulation. On the other hand, you should make sure that the straps are not riding up either.
If you're ever unsure about whether the size and style is right for you, our team of professional sports bra fitters are on hand to give you a hand! Simply come visit us in store for a free fitting consultation.
Should you size up or size down a sports bra?
Due to the style and material used in the design of sports bras, they can feel a little bit tighter than an everyday bra. So most women find that when they first try on a sports bra, it can feel a little bit too tight or small. If you feel like this, you should try the next size up. However, if you feel like the sports bra is too loose, it's not necessarily the right choice for you.
The same goes for your band size: If you're between sizes and are experiencing discomfort over your entire bust area, go down to the smaller band size. On the other hand, if you're having discomfort over only a portion of your bust area, then keep your current band size and look for a smaller cup. 
Can I wear a sports bra all the time? 
The short answer is yes! Many women actually choose to wear sports bras as their everyday bra. Wearing a sports bra as your everyday bra is beneficial for a number of reasons. They are great for support, comfort and breast movement control. They can also help boost your confidence by reducing the exposure of your body. The fuller cups and compression style are great underneath T-shirts and other form fitting clothing items if you're looking to create a more modest everyday look. This is because a sports bra has the ability to smooth out areas of your body, which can help improve your appearance and eliminate the appearance of bumps and lumps. 
There you have it! A thorough and practical look at the science behind sports bras. It's important to remember that a great sports bra is a personal choice as well. Ultimately, you're the one who needs to make your own decision based on your body type and what you need out of a sports bra. If you are unsure, we're always happy to help!
If you'd like to find out more about how to find the perfect fitting bra, please visit our blog page here or book a free fitting consultation with one of our professional bra fitters.
About The Author
TRACEY
Lingerie Specialist
Famously known throughout Moonee Ponds and Greater Melbourne as the "Bra Fairy", Tracey has been helping women feel comfortable and confident through stress-free bra fittings for over 38 years.
Learn More
Our List of The Best Bra & Lingerie Puns Sometimes we all need a good laugh, after all they say "laughter is the best medicine" so today we have compiled a list of the breast of the best bra p...
Read more