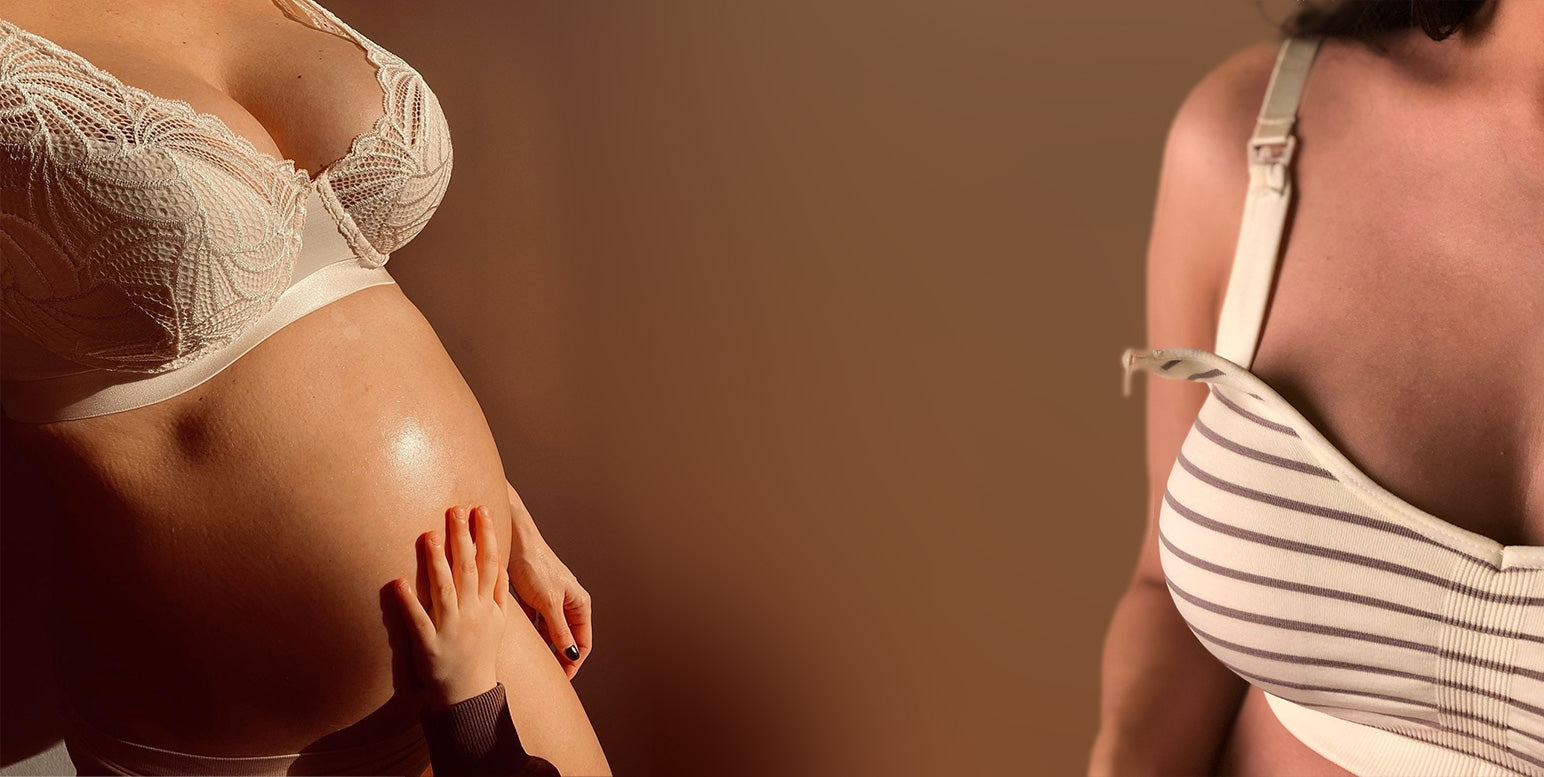 The Maternity Bra Buying Guide For New Mums
A woman's body changes throughout her life - it grows and expands, shrinks and changes shape. The bras and briefs you purchased at your first bra fitting definitely won't be the same kind of lingerie you buy in your 20's or 30's. But the biggest changes your body goes through are the ones that happen during pregnancy. 
The idea of shopping for maternity lingerie can seem a bit daunting (particularly for first-time mums). But no need to worry - our team of professional bra fitters have created this comprehensive guide on how to shop, wear and care for maternity lingerie - keep reading to find out more!
What exactly is maternity lingerie?
Good question! Maternity lingerie is simply underwear that's designed to support the changing shape of your body during pregnancy. For example, maternity briefs will support the weight and shape of your growing stomach whilst a maternity bra will provide support for the changing breasts. Luckily, there is a huge range of different styles of maternity lingerie available, including nursing bras for post-baby feeding and nursing.
What are the features of a maternity bra?
Choosing a maternity bra for the first time can be difficult especially if you're not quite sure what to look for. But no need to worry - we've got things covered. With maternity bras there are a few features you want to look for - these include:
- Wide shoulder straps with minimal stretch and extra cushioning for added comfort
- Full cups to properly support a bigger, softer bustline
- Wide back straps to allow for growing breast tissue
- Additional hooks to allow for changing size
- Wire-free cups for maximum comfort
What are some things to consider when shopping for maternity lingerie?
If you're a new mum shopping for nursing bras, maternity briefs and other lingerie, you must remember three very important things: comfort, support, and practicality:
Comfort
Your body will change during pregnancy; you're suddenly having to deal with aches, pains and swelling where there was none before, so make your life easier by only buying maternity lingerie that's comfortable. Remember to focus on the fact that your body is going through big changes during pregnancy. Think about how different wearing a bra will be, instead of thinking about how uncomfortable you're feeling in an ill-fitting bra.
Support
Support is another thing you should think about. When pregnant the weight on your abdomen expands quickly and is quite significant. Therefore it's important to find maternity briefs or maternity bras with a good amount of support. 
Practicality 
Lastly, work out what's practical for you to wear. Don't buy something that will get in your way or cause you trouble when you're out and about. Think about what you need to wear that day and buy some underwear that will work with your daily activities.
What size maternity bra should I buy?
When it comes to buying a maternity bra that fits, a good rule of thumb is to add one cup size and one back size onto what you would usually buy - so if you normally wear a 14C bra, a 16D maternity bra is a good place to start. 
Our team of professional bra fitters always say that you should be able to fit your open hand into the cup of your maternity bra and it needs to feel comfortable and secure on the loosest hook setting so you can tighten it as the fabric stretches a little and your body changes throughout pregnancy. 
Still not sure about the fit? Visit a lingerie store near you and take advantage of their in-store bra fittings services. That way you can be sure you're investing in a maternity bra that's comfortable and suits all your needs. 
When should I buy maternity lingerie?
Every woman's body is different and develops at a different rate during pregnancy. However, we recommend sourcing some maternity bras and nursing bras as soon as you notice your breasts start to grow and change (which is usually during the first trimester).  
At around the 20-week point, your rib cage will start to expand to make way for your growing baby belly. This is usually a good time to start shopping for maternity briefs or underwear as the softer material and added flexibility allow for maximum comfort and manoeuvrability. 
Tip: There will usually come a point during your pregnancy when the maternity lingerie you purchased during the first few months no longer fits - but don't throw them out! Smaller-sized maternity bras and maternity briefs are perfect for postpartum bodies.
In conclusion, it's important to remember that women are different and there is no one-size-fits-all when it comes to maternity lingerie, but by keeping these simple tips and tricks in mind, you can find what works best for you and stay comfortable with your pregnancy lingerie.
If you're interested in other guides for maternity bras or plus size bras, check out these:
About The Author
TRACEY
Lingerie Specialist
Famously known throughout Moonee Ponds and Greater Melbourne as the "Bra Fairy", Tracey has been helping women feel comfortable and confident through stress-free bra fittings for over 38 years.
Learn More
Transgender Bra Fittings In Melbourne
Illusions Lingerie Is Where To Get A Transgender Bra Fitting In Melbourne The journey of a transgender person is not easy. It's not just about coming out to the world and living their life as who ...
Read more
Our Latest Arrivals From Elomi & Panache
We're excited to share out newest arrivals in store from Elomi and Panache. We've been awaiting this delivery and are so impressed by the products that have come in, their pop of colour is a fanta...
Read more