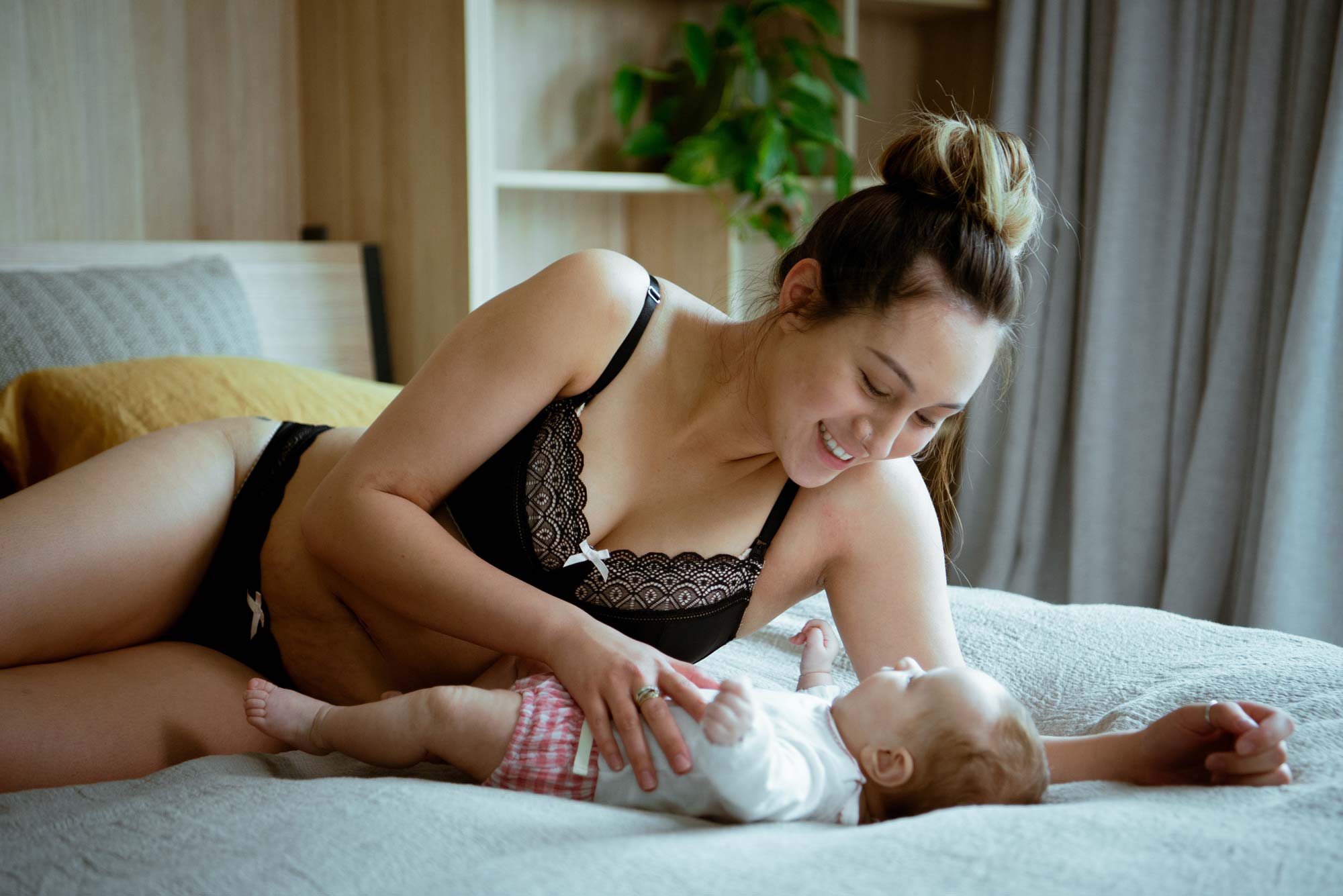 How To Choose A Maternity Bra: A Guide For First Time Mum's
Motherhood is a miraculous journey, and as our bodies go through changes, it's crucial to prioritise comfort and support. One item that plays a significant role in ensuring our wellbeing during this time is a maternity bra. We've given our lovely readers the The Maternity Bra Buying Guide, but today we're taking an even closer look at how to choose a maternity bra. In this guide, we will explore the importance of understanding how to choose a good maternity bra and provide valuable advice on sizing, fitting, style, and comfort features that every new and expecting mum should know.
Benefits Of Wearing A Maternity Bra
During pregnancy and breastfeeding, our breasts undergo significant changes, both in size and sensitivity. Maternity bras (also known as nursing bras) are specially designed to provide the necessary support and accommodate these changes, ensuring that we feel comfortable and confident throughout this transformative journey. Wearing the right maternity bra not only alleviates discomfort, prevents sagging, and promotes breast health but also allows us to embrace the joys of motherhood while prioritising our own well-being. It truly is an investment in our comfort, support, and overall physical and emotional wellness, so as a first time mum, it's vital you understand how to choose the right maternity bra. 
How To Choose A Maternity Bra
Let's explore the various steps to choosing the best maternity bra for your body! Read on for more:
Step 1. Know What To Consider When Choosing a Maternity Bra
Step 2. Accurately Measure and Fit a Maternity Bra
Step 3. Know How to Check if Your Bra is Comfortable and Supportive
Step 1. Know What To Consider When Choosing a Maternity Bra
Choosing the right maternity bra isn't as difficult as you may think, in fact, it's no more difficult than shopping for a regular bra, but with so many styles and fits available, it's easy to get overwhelmed. So we asked our in-store lingerie experts, and they agreed there are 3 important factors to consider that are essential to choosing the right maternity bra for you:
Size and Fit: Accurate sizing and proper fitting are crucial for a comfortable maternity bra. Our breasts will likely grow during pregnancy, so it's essential to measure regularly and choose the right size to accommodate these changes.


Support: Look for bras that offer excellent support, particularly in the band and cup areas. Wide, adjustable straps and a supportive underband can help distribute weight evenly, reducing strain on our shoulders and back.


Style and Flexibility:

Consider your lifestyle and personal preferences when selecting a maternity bra. For example, if you work from home and enjoy gentle exercise, you might prefer

wirefree maternity bras

for added comfort. Active first time mums who play sport and find themselves on their feet for most of the day may opt for underwire or

flexiwire maternity bras

for extra support. It's also helpful to choose bras that allow for easy breastfeeding access if you're planning to nurse your baby. 
Step 2. Accurately Measure and Fit a Maternity Bra
Accurate sizing and a well-fitting maternity bra are essential for our comfort and support, so we recommend working with a professional bra fitter, particularly for first time mums. Here's how we can measure our bra size correctly:
How to Accurately Measure Your Bra Size:
Use a soft measuring tape to measure your underbust, making sure the tape is snug but not too tight.

Round up to the nearest even number to determine your band size. If the measurement is an odd number, add one inch.

To get an accurate measurement of your bust, wrap the tape around the fullest part of your breasts, making sure it's parallel to the ground. Now, here comes the maths part: subtract your band size from the bust measurement. For every inch of difference, you move up a cup size. So, if you have a 1-inch difference, you're an A cup, 2 inches makes you a B cup, and the pattern continues. It's like a secret code for your perfect cup size!
It's a good idea to measure your bra size in the early stages of your pregnancy and continue doing so regularly as your breasts can go through significant changes. Once you've given birth, your size might still fluctuate, so it's essential to reassess and find a new size if necessary. Remember, our bodies are amazing and ever-changing, so keeping up with the right size ensures optimal comfort and support.
Step 3. Know How to Check if Your Bra is Comfortable and Supportive
Comfort and support are paramount when it comes to the best maternity bras. Our breasts experience increased weight and changes in shape during pregnancy. A well-fitting bra with excellent support can help alleviate back and shoulder pain by distributing the weight evenly. It also minimises the risk of sagging, ensuring our breasts maintain their shape post-pregnancy.
Features that Enhance Comfort: To maximise comfort throughout our pregnancy and breastfeeding journey, consider the following features when selecting a maternity bra:
Breathability: Choosing the right fabric is essential to prevent irritation and discomfort. When on the hunt for the perfect maternity bra, keep an eye out for those crafted from breathable, moisture-wicking materials that work wonders for keeping us cool and dry. Natural fibres like cotton are a fan-favourite thanks to their heavenly softness and ability to let our skin breathe.  

Plus, during pregnancy, our body temperature can increase, and hot and humid conditions can make us feel uncomfortable. Opt for bras with breathable fabrics and well-ventilated designs to enhance air circulation, keeping us cool and reducing the risk of sweat-related skin issues.


Flexibility:

Seamless bras or those with flat seams minimise irritation and friction against sensitive skin. These bras offer a smooth silhouette under clothing and can adapt to changes in breast size. 
Finding the perfect maternity bra is a crucial step towards ensuring utmost comfort and support throughout our incredible pregnancy and breastfeeding journey. By carefully considering factors like size, fit, support, and comfort, we can discover a bra that caters to our unique needs.
The Final Word
So, let's celebrate this beautiful phase of motherhood and pamper ourselves with a maternity bra that not only offers comfort, support, and style but also amplifies our personal sense of fashion and self-expression. Shop and our range of maternity bras online now or come visit us in-store for a professional maternity bra fitting. You deserve it, mama! 
Interested in other similar guides? Check out our other blogs:
About The Author
TRACEY
Lingerie Specialist
Famously known throughout Moonee Ponds and Greater Melbourne as the "Bra Fairy", Tracey has been helping women feel comfortable and confident through stress-free bra fittings for over 38 years.
Learn More