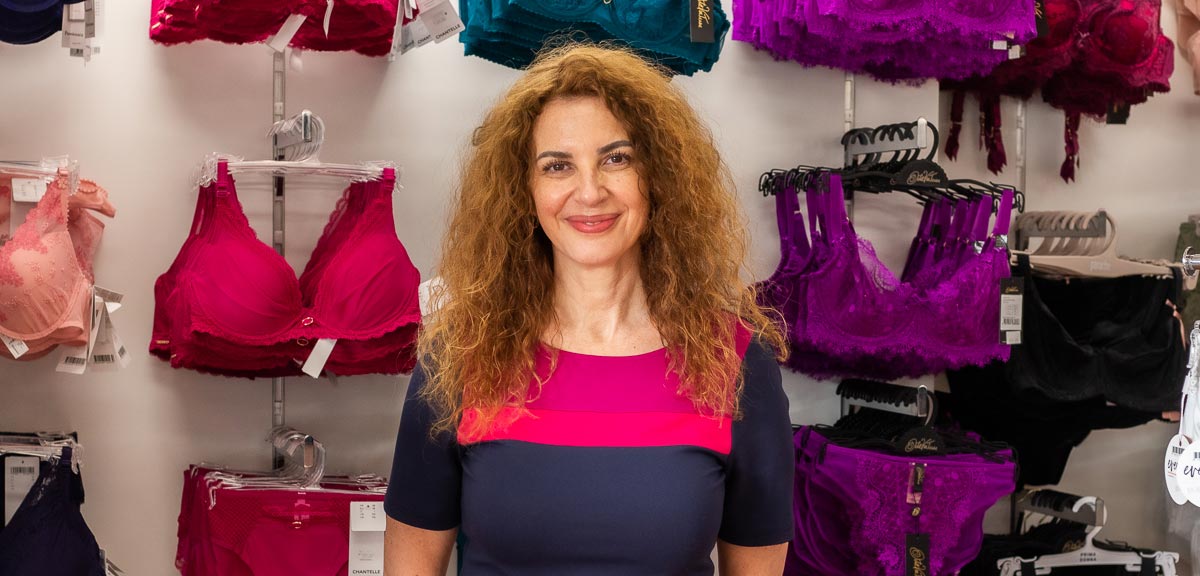 Tracey: The Trusted Sage On All Things Bras
Tracey: The Trusted Sage On All Things Bras
Knowing your bra is the perfect fit is the key to a comfortable life. Today we take a look at Tracey, our most experienced and loved bra fitter. Not a day goes by where we don't get asked "Is Tracey in today?" which just goes to show her expert knowledge and gentleness keeps people coming back. She knows exactly what it takes to fit you with lingerie suited to your unique body type and shape no matter your stage of life or circumstance.
Who Is Tracey?
One of - if not the most - experienced bra fitter in Melbourne, Tracey is known across Victoria not only for her fitting experience but also her warmth, kindness and iconic hair. As a mother of 3 herself, she knows the ins-and-outs of the pregnancy journey from first term all the way through to breast feeding. Tracey will find you exactly what is needed to provide support, style and will last as the body changes.
When she's not providing a free bra fitting, Tracey can be found going through the stock and placing orders for garments. Tracey prides herself on the products she stocks ensuring she covers a wide spectrum of sizes, from small A cups to plus size J cups and everything between, especially those in-between sizes that are hard to find. She knows that every woman is different and makes sure she can cater to those women.

The Bra Fitting Journey
Tracey started her life as a bra fitter at the age of 16 where she was employed by Illusions Lingerie. Since then, she underwent a corsetier course, mastectomy fitting course and over 38 years of practical experience.
Love blossomed along the way when Tracey married owner Eli and had 3 children (all of which have worked for the store). Between being a mother and a corsetier, Tracey excelled at displaying kindness which is reflected by her loyal customers who are still coming for fittings as their body changes more than 20 years later.
Her ability to look at someone and instantly know what size is perfect for them wows our customers, a true testament to her years of practical fitting experience.
Tracey now works alongside her daughter, Talya, her husband, Eli, and youngest, Jesse. Together they bounce off each other to provide a true family business experience.

Why Customers Love Her
It's easy to see why customers keep coming back time and time again. From her warm and welcoming greeting when you walk in the door to her time and patience in finding you a bra that fits just right, the experience will make you feel like you're part of the family too.
Her incredible friendliness has been felt throughout many generations with grandmothers, mothers, daughters, and grandchildren coming through our doors based on the incredible experience they receive.
Tracey is also passionate about inclusivity and supporting the LGBT+ community. Her selflessness has her staying back some afternoons offering private lingerie fittings to those who request discretion, this can be in the form of cross dressers, drag queens, and transgender fittings while the store is closed. With wheelchair access and a large fitting room, customers can feel comfortable knowing that they are receiving a professional all-inclusive specialty fitting service.
Tracey likes to make sure that everyone who visits her lingerie store feel comfortable and both mentally and physically. You'll never feel pressured to buy something you're not 100% about! At Illusions Lingerie we want to make sure you are completely happy when you walk out the door.
When you buy bras online, you can also be sure to get the same quality service, if you have any questions we insist that you send us a message or give us a call and Tracey will personally do everything we can to give her best advice and recommendations.
Tracey's Google Reviews
★★★★★
"I love Illusions Lingerie. I've been buying from Tracey for over 10 years and I can always rely on great service from any of the team. I know I will walk out with well-fitted bras and accessories that work for my size - which varies from year to year!! If you want a bespoke service for a reasonable price that leaves you feeling like a million dollars then you have to go visit this family run business. You won't regret it!"
- Asheley Jones


★★★★★
"Customer service as good as this is hard to come by these days - Tracey was incredible. I sent an online enquiry via the website, within 5 minutes Tracey called me back, answered my questions and then helped me organise a courier from the shop to my office. 100% will be a return customer; can't wait for the in store experience! ❤️❤️❤️ Thanks again Tracey, you're an absolute star!"
- Jess Conner


★★★★★
"My favourite bra shopping experience ever. The woman who owns this store is incredible - she knew my size from looking at me and the first bra she gave me was perfect. No mean feat when buying maternity bras! Already looking forward to coming back. Highly recommended."
- Marisa Pintado
And many, many more.
Get A Free Bra Fitting In Melbourne By Tracey
Tracey helps people to lead healthier and happier lives - with a lot less pain - by fitting them with the perfect bra without the struggle and hassle of guessing sizes. You can come in store for your free fitting anytime and without needing to book an appointment. Tracey works Monday - Saturday, 9am to 4pm and is also available on the phone or via email outside of work hours.
About The Author
TRACEY
Lingerie Specialist
Famously known throughout Moonee Ponds and Greater Melbourne as the "Bra Fairy", Tracey has been helping women feel comfortable and confident through stress-free bra fittings for over 38 years.
Learn More