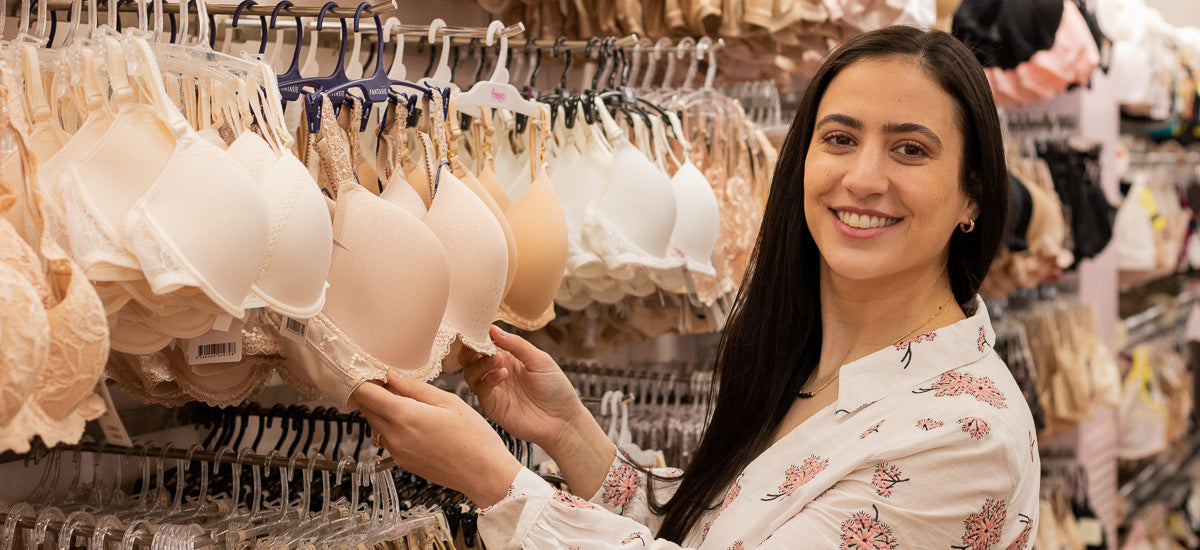 5 Reasons To Shop At Illusions Lingerie
It's not just the friendly faces and amazing service that has our customers coming back time and time again, its the knowledge, products, sizes and much more. Today we're looking into 5 reasons to shop at our small family run business.

Reason 1: Expert Bra Fitters
We know how tough it can be to find a bra that feels good and looks good too. We have plenty of women come in store telling us how hard they have found it to find a bra and they are begging us for help. Just last week we had one lady travel down from Shepparton to give us a chance thanks to some recommendations. She told us that "No one has ever been able to find [her] a bra that actually fits", low and behold the first bra we gave her fit perfectly! This is because our team of fitters is made up of women who have fitted countless women of every size and shape for over 38 years.
Tracey
Our senior fitter Tracey has been working at Illusions Lingerie for over 38 years since she was 16. She is known by many women throughout Victoria thanks to her ability to know exactly what women require. In addition to completing various bra fitting courses, she has the life experience of being a mother of 3. Tracey has gone through all the ups and downs of pregnancy meaning she knows exactly what is needed at every stage.
You can read more about Tracey here.
Talya
Talya, daughter of Tracey, prides herself on her ability to make her customers feel comfortable both during their fitting and in their bras. Her bubbly personality and knowledge of stock is just one of the many reasons people keep coming back to be served by her.
You can read more about Talya here.

Reason 2: A large size range
Our large range of sizes and styles allows us to cater to everyones unique body shape, size, and age. With a selection of A - K cup bras ranging from sizes 8 - 30, it doesn't matter how small or big your bust is, we're capable of finding you your new best bra.
Our range of bras means that we offer fittings for: Everyday bras, sports bras, first bras, maternity bras, plus size bras, mastectomy and post operative bras, as well as bras for people who are transitioning or crossdressing.
We pride ourselves on making sure our customers feel comfortable as we know shopping for lingerie can feel overwhelming at times (especially your first bra fitting!).

Reason 3: Our Prices and Price Ranges
Dedicated to offering reasonable prices for customers of every budget, we stock a wide range of brands and styles varying in prices. We have a selection of more expensive designer based brands such as Prima Donna and Dita Von Teese for those looking for a more refined look as well as a range of everyday basics and 50% off sale items for those on a budget.
Reason 4: We're Online and In Store
As the world faced the pandemic, Illusions Lingerie - much like many other small businesses - decided it was time to go online. Our main point of difference; ensuring our high level of customer service and wide variety of product sizes is maintained both online and in store. Unlike other online lingerie stores that advertise all sizes, we only advertise products that we have in stock and ready to send out so you can rest assure that your item will be delivered in time for your next event. If you're unsure whether it is better to go online bra shopping or in-store, call us today.

Reason 5: We go the extra mile - 5 Star Reviews
As a family owned and run business you can be sure that you'll be receiving only the best and most caring service and treatment. Our customers visit us from all over Victoria to receive the best bra fitting services. The time, care, attention to detail and accuracy offered by the staff at Illusions Lingerie is a tribute to the many years of experience fitting women of every age, every shape and every size. But don't take our word for it, check out our many 5 star reviews on Google.
Want to know more?
Get in touch with our friendly staff via our contact page with any questions or concerns you may have, we're always happy to help and offer advice!
About The Author
TRACEY
Lingerie Specialist
Famously known throughout Moonee Ponds and Greater Melbourne as the "Bra Fairy", Tracey has been helping women feel comfortable and confident through stress-free bra fittings for over 38 years.
Learn More

G string, thong, tanga, panties, g-banger, patch the snatch, bum floss, the list goes on but no matter what you call it, the g is one of the sexiest pieces of underwear you can buy and is an absol...
Read more
Ho! Ho! Ho! Seasons greetings to everyone for the holiday period! We are wishing you all a safe and memorable weekend gathering with family & friends.   Over the holiday period, our operating ...
Read more