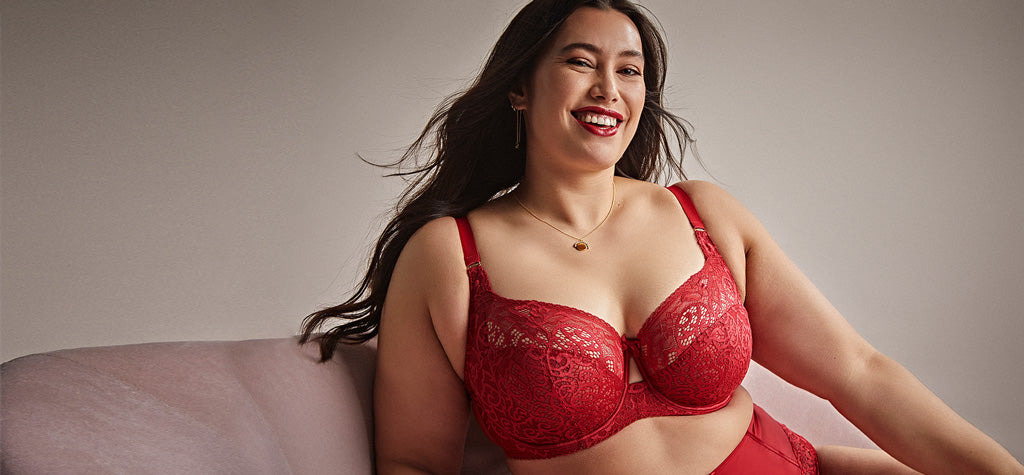 The Best Lingerie Brands for Every Type of Woman
Lingerie is a beautiful and intimate way for women to express themselves and feel confident in their own skin. However, with so many different lingerie brands and styles out there, it can be overwhelming to know where to start. To help you out, we've put together a list of the best lingerie brands for every type of woman. Whether you're looking for support, comfort, style, or sexiness, we've got you covered.
Looking to Support a Fuller Bust
If you have a fuller bust, it can be difficult to find bras that fit well and provide the support you need. Sculptresse, Goddess, and Elomi Lingerie are three brands that specialise in lingerie for fuller busts. They offer a wide range of styles, colours to suit every taste, sizes up to a K cup and 30 band size, and to top it off their bras are designed with the needs of fuller-busted women in mind. From full-cup bras to balconettes and plunge styles, you're sure to find something that fits like a glove and makes you feel confident and supported. After 40 years and countless larger figure bra fittings, we have found that these three lingerie brands Melbourne women love and keep coming back for.

Looking for a Workout Bra
For women who are active and love to work out, a good workout bra is essential. Panache Sports and Anita are two brands that specialise in providing sports bras that provide excellent support and comfort during high-intensity workouts. Their bras are designed with moisture-wicking materials and breathable mesh panels, so you stay cool and dry no matter how hard you're pushing yourself, all while keeping 'the girls' in place. They also offer a range of sizes and colours, so you can find a sports bra that fits your body and keeps you looking stylish at every lunge.

Looking for First Bras
For young girls who are just starting to wear bras, it's important to find something that's comfortable, supportive, and age-appropriate. Ambra, Calvin Klein, and LingaDore are three brands that offer a range of first bras for girls. Their bras are designed to be comfortable, with soft materials and adjustable straps, ideal for getting used to wearing a bra daily. They also offer a variety of basic styles, sports bras, and bralettes, so you can find something that suits you or your daughter's needs and aesthetic preference. You can read more about bra fittings for teens on our fitting page.
Looking for a Strapless Bra
Strapless bras can be tricky to find, but FineLines Lingerie has got you covered with their signature convertible bra range. They offer a range of strapless bras that provide excellent support and stay in place all day long. Some of their popular styles in this range include a strapless wirefree bra, a wired push up plunge and a basic wired contoured memory foam strapless bra. All designed to be versatile and practical for any outfit.
Looking for Something Sexy
For women who want to feel sexy and glamorous, Dita Von Teese and Marlies Dekkers are two brands that offer lingerie that's both stylish and provocative from seductive burlesque to bold designs. Their lingerie is designed to entice and accentuate your curves, with beautiful lace and intricate details that add a touch of luxury and sophistication in the Dita sets, and clean powerful designs in the Marlies range. From bright fluro colours to push-up bras and thongs, their sexy lingerie is sure to make you feel confident.
Looking for Comfortable Sleepwear
For a comfortable night on the couch and an even better nights sleep, Givoni Sleepwear is the brand to check out. They offer a range of traditional pyjamas, nighties, robes and popular brunch coats that are made from soft and breathable materials, making them perfect for a night in. The classic prints are especially perfect for gifting to a friend or as a practical gift for mum. Pair a gorgeous nightie with matching brunch coat for a stylish night time routine.
Looking to Smooth their Silhouette
Feeling confident and curvaceous is easier than ever with the help of some slimming shapewear that can help smooth out your silhouette and Spanx and Miraclesuit are two brands that are worth checking out. They offer a range of shapewear products, from control briefs to bodysuits, that are designed to tuck everything in, smooth out your curves and create a sleek and streamlined look. You'll feel comfortable all day long without feeling constricted. If you need help with sizing, our staff are happy to help over the phone or via email.
While finding the right lingerie can be a challenge, you can feel confident that you're getting high-quality products that cater to your unique needs and preferences with all of the mentioned brands. Each of which have been around for many years and tried and trusted by many women. Whether you're looking for support, comfort, style, or sexiness, there's a lingerie brand out there that's perfect for you. So go ahead and indulge yourself, and enjoy feeling beautiful and confident in your own skin.
About The Author
TRACEY
Lingerie Specialist
Famously known throughout Moonee Ponds and Greater Melbourne as the "Bra Fairy", Tracey has been helping women feel comfortable and confident through stress-free bra fittings for over 38 years.
Learn More